Health insurance member benefits
Health insurance
Further deferral of our premium increases
Announcing further deferral of premium increases until 1 April 2024 for our members.
As a member-owned health fund, we've decided to give more back to you. That's why we deferred our 1 April 2023 premium increases on health insurance earlier this year. And we're pleased to announce this has now been extended to 1 April 2024. This deferral builds on the range of relief and support measures we have provided to date and will bring the total to approximately $98 million.
What this means for you
If you're already an existing health insurance member, you don't need to do anything to take advantage of this. Before April 2024, we'll contact you about the changes and let you know how your premium will be impacted. Until then your current premium will remain unchanged. You can check your current premium, how you pay and even update payment details by referring to Online Member Services, our App or by contacting us as per the details below.
Our track record
Australian Unity has a long history of supporting our members through good times and bad times. We're proud of the work we have done to keep health insurance affordable over the last couple of years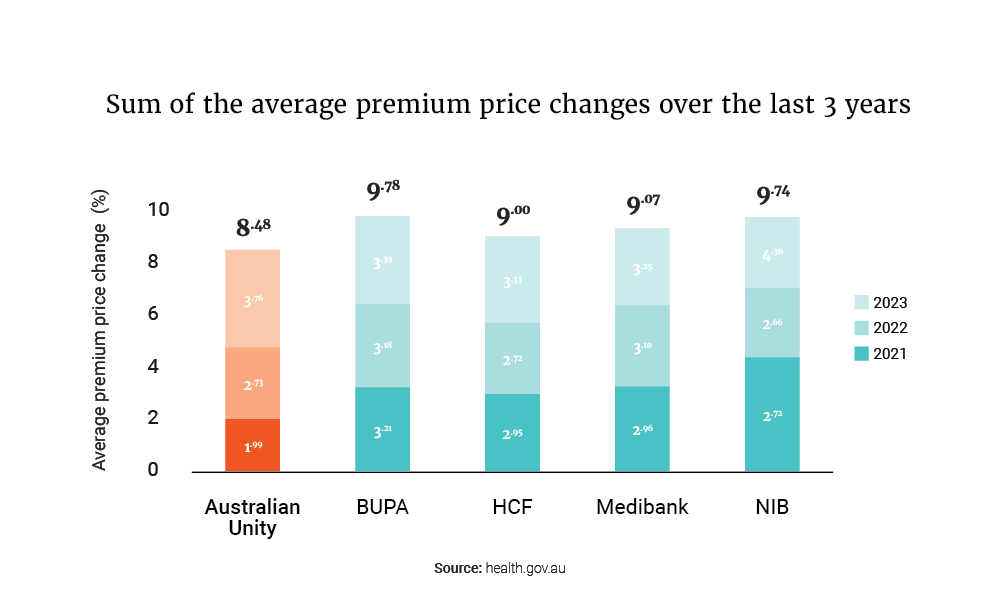 Source:
health.gov.au
Refer your friends and family
If a friend or family member joins us on your referral, we'll give you a $100 gift card. There's no limit to how many people you can refer or how many gift cards you can get! T&Cs apply.
Find out more
Frequently Asked Questions
Why are we deferring premiums again?
No one likes it when prices go up. Rising interest rates and steep increases in the cost of living have created greater financial pressures for Australians. The pandemic had a significant impact on the health of many Australians, and our ability to access certain healthcare services.
Deferring our premium increases again is a simple way to give back to our members so you have more money in your pocket. Our focus remains on meeting the wellbeing needs of our customers and delivering value to our members.
What else are you doing to make health insurance better?
To see just some of the ways we're making our health insurance even better,
click here
.
What do I do if I am experiencing financial difficulty?
We recognise that many Australians are still dealing with the ongoing financial impacts of the pandemic as well as managing delays to the delivery of some healthcare services. We encourage our members to have a conversation with us to ensure you're on the best product to suit your health and budget needs. If you're experiencing financial hardship during these times, contact us to discuss the support we have available for you.
Why do premiums increase every year?
Each year we review our premiums, considering a range of factors. This includes the increased cost of healthcare services, caused in part by Australia's ageing population and rise in chronic conditions, and ensuring the fund remains sustainable over time so we can continue to cover our members.
Depending on your level of cover, your premium can also be affected by other factors including the Australian Government Rebate on private health insurance and any Lifetime Health Cover loading. Any changes to these factors can result in changes to your current and/or future premium.
Premium increases normally occur every April across all health funds. Our decision to defer our premium increases until April 2024, recognises the impact previous restrictions have had on access to some healthcare services and acknowledges the cost-of-living pressures Australians are facing, and we'll continue to provide support to our members now and into the future.