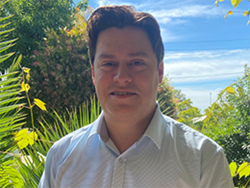 "It's hard to find a company that does better than what I've seen at Australian Unity," says Stephen, Learning Facilitator in People & Culture. Stephen has recently transitioned from his 15 years as a care worker to a new career in learning thanks to the support at Australian Unity.
We sat down with Stephen to talk about his career journey and the importance of working with a company that prioritises your wellbeing and stands by you through the hard times.
Stephen has worked as a care worker at various organisations over the past 15 years, and recently Australian Unity gave him the opportunity to change paths and follow his passion of training and teaching people.
"I've worked in aged care since I was 17 and I'm 32 now, over this time I've worked for a wide range of aged care companies, hospitals and disability support companies. Australian Unity has been the one that has the support to back you, if you say you want to go somewhere, if you say you want to become something, the branch managers will support you and help you to do just that.'
Stephen was working with Australian Unity as a Care Worker Coach, but when a new Learning Facilitator role was created, he was drawn to the opportunity to work on the care worker learning induction process and use his experience to train new care workers in the left and rights of the role.
"Once I explained to my regional and branch manager that this was what I wanted to do, they were really supportive, letting me take time off to attend interviews and providing the references that helped me get the role."
"I've never worked with a company that is so supportive, the support you receive when you're going through hard times is unmatched. A few years ago, sadly I lost my mother to cancer, she was only 65 – Australian Unity supported me the whole way through. Then shortly after we went into the bushfire season of 2019 – my second job is a fire and rescue captain with Fire and Rescue NSW, and when I was deployed Australian Unity backed me the whole time, looked after me, offered me leave, reimbursed my leave. They were great, they were really supportive."
"An important aspect of my wellbeing is the flexibility to work from home or change my hours to fit my lifestyle. If there are certain parts of the day I can't work because I need to prioritise my family, my people leaders are always understanding of this. They're really understanding if something happens and I have to dash to school and pick up my kids."
"It's hard to find a company that does better than what I've seen at Australian Unity," said Stephen.