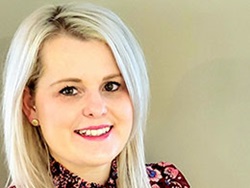 Krista has had an amazing career journey with Australian Unity, starting as a Service Coordinator and progressing through several roles over the past six years and into her current role as Head of Deployment and Adoption in Home Care Services (HCS).
We spoke with Krista to hear about the importance of supportive people leaders, her career development and what Real Wellbeing means to her.
Tell us a bit about your role at Australian Unity…

As Head of Deployment and Adoption, my team and I are responsible for the development of deployment plans, including ownership of end-to-end implementation, change management, project internal communication plans and facilitation with the delivery of change process training. Additionally, we measure this to determine the success of initiatives with the aim of achieving one way of working across our business.
Tell us about your career journey with Australian Unity.

Throughout my career with Australian Unity, I have worked with some amazing, inspirational people leaders that have supported my career goals and growth. I have worked with my leaders on personal growth and in turn been provided with support and opportunities to reach my goals.

I started with NSW Family and Community Services (FACS) in 2006, who were acquired by Australian Unity in 2016, so I came over to Australian Unity as a Service Coordinator. Given my previous systems experience in FACS, I was offered to join a project team as a Systems Trainer. In 2017, I was offered a permanent position as an IAL Learning Consultant where I continued to support HCS. In 2019, I progressed into IAL Systems and Information as an IAL Business Analysist. In 2021, I went on secondment to the IAL Service Operations team as Acting Head of Deployment and Adoption, and earlier this year I was offered a permanent position as Head of Deployment and Adoption.
What do you like the most about working at Australian Unity?

Australian Unity's values of Bold, Warm and Honest align nicely with mine and can be easily adopted. As a wellbeing company, the focus on both Real Wellbeing for customers and employees really provides a great place to work!
How does Australian Unity support your Real Wellbeing?

Fitting everything in with a career and being a mum to a young family can be hard work - at Australian Unity I am able to be flexible with work when I am needed by my family. The opportunity to take advantage of some employee benefits, including discounted insurance and banking is great.

Australian Unity has supported me by providing me with great career and growth opportunities – look at my journey! It's been a great one!