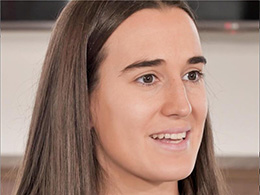 Zoe is a Community Occupational Therapist (OT) who started her career in the Remedy Healthcare graduate program in 2020. Here, she tells her story.
I was really confused when I finished school. I knew I wanted to do an allied health role, I loved working with people and loved the hospital environment, or so I thought. I was also really interested in paediatrics. I went to open days and spoke to different people. The biggest thing that drew me to OT was how functional it is and that you're working with the person functionally to achieve their goals. It's not prescribing something and that's it – you work with the person, the environment and everything that surrounds them.
I applied for the graduate program at Remedy Healthcare. I remember on the job ad, in bold it said there would be over 70 hours of personal development. That really appealed to me. I finished La Trobe university in 2019 and started at Remedy in February 2020. I started in aged care but COVID meant I was put into the community full-time. When the pandemic started to settle down, I went into a half-half role.
I now work at Remedy part-time which gives me flexibility to do work with Peter Mac in the acute in-patient unit there. So, I enjoy a dual role with community and in-patient hospital. Working in a hospital is very different from in the community. When you're working with someone in a hospital, you're working to get them out of hospital to make them safe in their home – not functional in their home. As an OT in the community, you're looking at how you can improve their quality of life.
Remedy was totally new to me, but the interviewers sold it. The most important thing that shone through was the culture they were creating. They were so genuine and warm. They wanted to get an understanding of my goals and how I would fit in. It was totally different from the interview I'd gone to prior to that at a hospital which was a sterile room and no discussion. By comparison, Remedy just seemed like a great company to start my career with.
I didn't realise how good the PD would be. As part of the grad program, we did weekly training on Fridays for the first three months, which was awesome. It meant that I was able to meet other clinicians, which is harder to do in a community role. Then we moved onto the occupational therapist forum every fortnight which gave us specific training to OT.
Every day is different. It's not just seeing five clients, writing notes and it's done. The role is very diverse. Yesterday I went out to do an equipment trial, then a home visit, then an equipment application. Other days I liaise with different bodies, family members, builders, equipment suppliers and case managers. I predominantly work with over 65's, mainly with MyAgedCare referrals. I've also got my first NDIS client coming up, which I've had specific training for.
My favourite part of the day? It's when I have a specific piece of equipment for a client or home modification and it's just changed their life. Something that might seem so small for us can make such an impact for someone else. For example, I saw a lady who spent 24 hours a day in her recliner; she could barely walk or get into bed. The chair was very old, but she needed it. So, we got her a very customised, complex chair that improved her quality of life. She called me a week later saying how thankful she is.