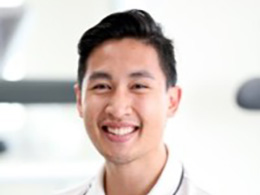 Quoc is a Care Coordinator in Adelaide who started at Remedy Healthcare in April 2020. Here, he tells his story.
I'm a Physiotherapist by trade. I'd been working in clinics and did some physiotherapy contracts with Remedy. I enjoyed it, loved it, and couldn't get enough of it. Then COVID happened and I decided to move away from the clinician side of things. I saw a care coordinator role pop up at Remedy and it was great timing. I had an interview and the rest is history.
My background as a Physio has really helped me as a Care Coordinator. When clients are coming home from hospital and require physiotherapy, nursing or occupational therapy (OT) services, we coordinate that whole Rehab@Home process.
I'm a jack of all trades now. Because I also work as the state Service Admin here in Adelaide, I look after the triage of referrals. When referrals come in, I do the appropriate triage to find out what the client needs, before it goes to a Care Coordinator, who organises the services. Because I am both a state Service Admin and a Care Coordinator, I get to see the process from referral through to coordination, and I have previously done the treatment. That's pretty unique!
My successes are in providing a structured program. We receive heaps of reports on a day to day basis, so the first 45 minutes of my day is always admin and working out what I need to action in the reports. Typically, physios report back to us after visits, and hopefully it's all good. But they might need some other services too – for example, a client might need nursing or an occupational therapy assessment. From there, I coordinate services.
I love it when everything just works. When I call a service provider and everything is seamless, that's really enjoyable. It's satisfying to see all your work processes fall into line.
You really need good people skills in this role. It's important to stay calm, focus and manage expectations when people are frustrated. Because often the only time you hear from people is when things go wrong! A good day is a quiet day.
The "care co" world is very supportive. There's trouble shooting every day and we're chatting all day long – the good, the bad, and everything in between!
Professional development is very important to me. I saw an opportunity to explore this at Remedy, so now I work in a small team helping to find great professional development opportunities for staff. For example, once a month we have a speaker come onto Teams and present to staff.
I didn't know much about Remedy before I applied. I want people to know that we exist and that we provide a great service here in South Australia. That's where I see my career growth.