"My clients have made me think about life differently, and I am grateful for the strong relationships I have with them. We've been through so much together." – Carlos Latorre.
What is the role of a carer?
Carers provide a range of practical help, but there are other important roles they play, too.
Carers help people who have restrictions because of illness, disability or age to live as well as possible. There are 2.7 million family and volunteer carers in Australia, as well as professional care workers.
Caring can mean a range of things for an individual, from personal care and hygiene assistance to preparing meals, managing medication or helping a person get out of the house. And that's just the beginning of what a carer does.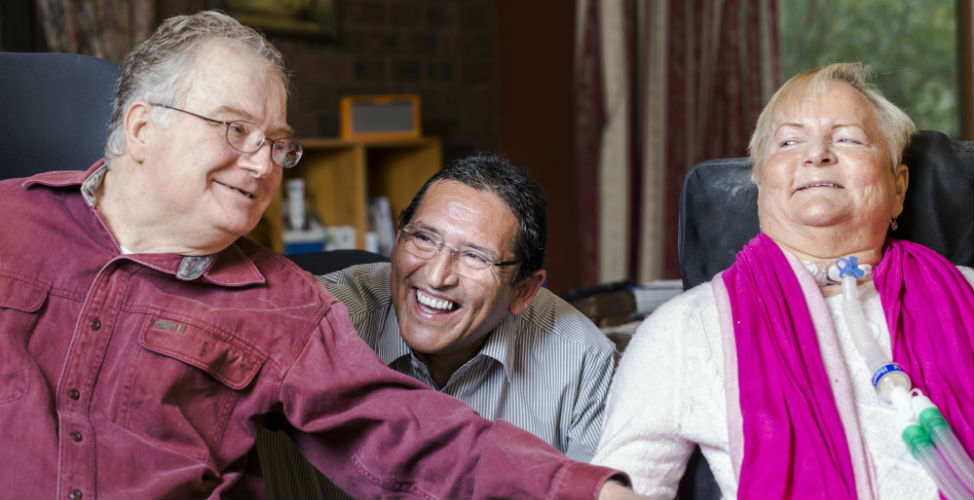 An ear to listen
One of the often unspoken aspects of caring is the emotional support that carers provide.
Doreen Clift is, perhaps, Australia's longest-serving Home Care Worker. At 90 years old, she has been caring for others for 44 years, and she says that her formal role is to help out around the house – but there's another important aspect to her job.
"I do the vacuuming, clean the shower and mop the kitchen floor. (But) a lot of people think I just go to people's houses to talk," she says.
"Often (my clients) feel more comfortable telling me something than they do telling their own family. Some clients I have had for over 10 years."
Establish boundaries
While carers are required to do a range of tasks for their loved one or client, it's important to establish some boundaries.
If you're caring for a family member or friend, that might mean you look at how to put a line between your caring role and your relationship with the person. It's also important to put up some boundaries around how much you can do and when you need to ask for help or take some time out.
For care workers and volunteers, boundaries are important to maintain a level of professionalism, as well as keeping a work-life balance.
Establishing – and sticking to – these boundaries can help make your caring role more effective for the person you're caring for.
It works both ways
Many carers say that the practical parts of their role are the tip of the iceberg, and that the friendships they form are important to their own lives.
For Carlos Latorre (pictured above), who has been an Australian Unity Home Care Worker for 30 years and helps more than a dozen regular clients, it's more than a role. "(My clients) have made me think about life differently, and I am grateful for the strong relationships I have with … all my clients," he says. "We've been through so much together.
"For me, going to (a client's) place, it's like going home."