"The Men's Sheds, in some ways, are a bit like a pub with no beer." – David Helmers, CEO, the Australian Men's Shed Association.
It is commonly thought that men don't enjoy sharing their feelings and would rather keep mum about a problem than mull it over with their mates.
But, as the enormous success of the modern Men's Shed movement proves, this is categorically not the case.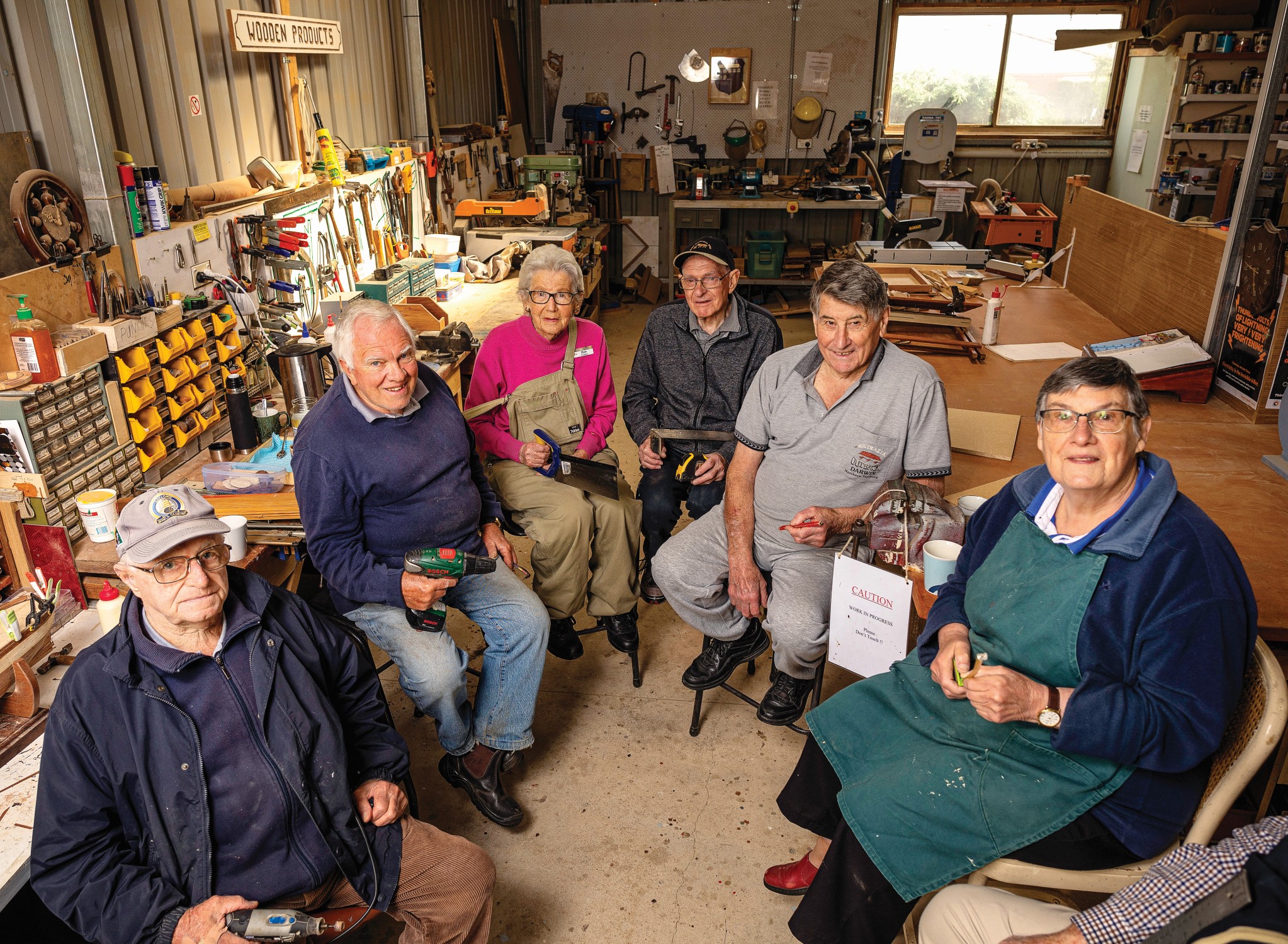 "Men don't talk face to face, they talk shoulder to shoulder," says David Helmers, CEO of the Australian Men's Shed Association.
"It won't work getting a dozen men in a room with a healthcare professional, but if you put the same group in a room and ask them to fix a lawnmower then they will talk when they're working on something together."
Hence the workshop setting of the Men's Shed movement, which aims to stamp out social isolation and loneliness by giving men a space to chat about their health — mental, physical or both — while tinkering on the tools.
"There are no boundaries in these settings, and nothing surprises me anymore," David says.
"I've heard conversations in sheds with men openly saying they were contemplating suicide, discussions of family problems at home and being victims of abuse."
David says that although a couple of informal sheds had sprung up in South Australia and Victoria in the 1980s, the first official shed was set up by Ted Donnelly in Sydney's Lane Cove in 1991.
"The sheds then started to pop up around the country," David says.
By 2005, there were an estimated 50 sheds operating in Australia, but it wasn't until 2010, when the Federal Government included the organisation in the National Male Health Policy initiative, that the movement really gathered momentum.
"We got $3 million over three years to start the organisation rolling," David says. "Prior to that, we were running on a budget of $15,000 a year."
Fast forward nine years and there are now 1067 Men's Sheds across Australia, with some 80 per cent located in regional or rural Australia, catering largely to men who have retired.
"Between 2011 and 2013, Men's Sheds were opening at a rate of about four a week," David says.
In 2009, the shed idea was picked up by Ireland — there are now some 550 sheds there alone — before spreading throughout the UK and finally to Denmark, Sweden, the US, Canada and, most recently, Iceland.
"The Men's Sheds, in some ways, are a bit like a pub with no beer," David says.
"Men can enjoy that social interaction and that camaraderie and talk about what is on their mind.
"I remember going to one aged care facility and giving a chat about setting up a shed and there was a gentleman in the corner, who was 102 years old, and he said, 'Thank god, I'm sick to death of playing bingo!'"
The daily routine at the sheds often mimics the standard workday, David says.
"We have found that men will come into the shed at the same time, have lunch and tea breaks, do a bit of work and then go home," David says.
"Men form their social connections at work so when they leave or retire that bond is lost.
"If there isn't a shed in your area, we will help you start one."
Words: Johanna Leggatt Images: Dean Golja