Unlike traditional internship programs, CareerTrackers delivers internship roles to students from their first year of university.
Australian Unity is proud to partake in the CareerTrackers Indigenous Internship Program. CareerTrackers is an Australia-wide not-for-profit focused on developing and creating internship opportunities for pre-professional Indigenous university students.
With more than 100 businesses linking more than 800 students with internships across the private and public sector, students complete their internship with the aim of transitioning into full-time employee upon completion of their university degree.
Meet our first CareerTrackers intern
Maneka Ladharam is Australian Unity's first CareerTrackers Indigenous Intern. Working in the Retail Legal team, the bright and accomplished 19 year old second-year Monash student is currently undertaking an Arts/Law degree, after transferring from a Business degree.
"The internship is a really great foot in the door. The opportunity to build relationships and network is something I wouldn't get without it," Maneka says.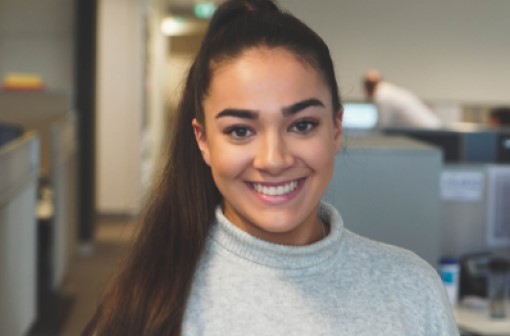 Rubbing shoulders with some of Australia's foremost business and professional figures through the internship program, she's fearless in her approach to learning.
"At the LDI (Leadership Development Institute) gala, it's a really good place to network. There were two guys standing together talking and I thought they looked important so I introduced myself to them … it was former CEO of Origin Energy, Grant King, and CEO of The Australian, Nicholas Gray" she laughs, reaffirming the opportunity is one not to be taken for granted.
In terms of practical outcomes, one of the major highlights she says is the chance to attend real life client meetings and live the daily routine of a professional.
"I am able to learn valuable legal skills and gain firsthand experience into the everyday life of a lawyer – that's something you don't learn at University."
Maneka is a proud Wiradjuri from New South Wales, and says that learning about her ancestors and their stories really made her embrace her culture.
"There's an Indigenous lounge at uni, and I'm there every day. Through interacting with other students in the lounge I have been able to learn about Aboriginal and Torres Strait Islander culture and the journeys people have gone through to bring them to where they are today."
"We have an Indigenous Elder at uni too called Aunty Diane that I talk to a lot. She's great!"
Combining her passion for her culture as well as her academic excellence, Maneka hopes to graduate and work in commercial or corporate law.
"My dad grew up in Hong Kong, and I travelled there by myself multiple times a year from the age of seven because I have a lot of family over there."
"I am majoring in Mandarin and that's where my desire came from."
Spending so much time abroad as a child inspired Maneka's love and interest in learning about different cultures, which fostered her desire to learn Mandarin.
"It is such an internationally recognised language and I think it will compliment my law degree and help open so many doors for me" she says. "I love to travel!"