"When they think how satisfied they are with their life overall at the moment, most Australians aren't very satisfied." —Dr Kate Lycett, Australian Unity Wellbeing Index lead researcher, Deakin University
Key points
In positive news, the research found a tangible increase in Australians' sense of community connectedness.





The Australian Unity Wellbeing Index tracks how people are feeling about their personal lives and the nation as a whole.





Scores for "satisfaction with the economic situation in Australia" and "satisfaction with life as a whole" remained at, or close to, record lows recorded by the the Wellbeing Index.





When it comes to personal wellbeing, this year's Wellbeing Index found a marked disparity based on age and income.
Until the last couple of years, few people had ever heard the word "permacrisis". Yet this combination of "permanent" and "crisis" is used with increasing regularity to refer to an extended period of insecurity and instability. Sadly, that term also sums up the context in which the latest Australian Unity Wellbeing Index survey took place.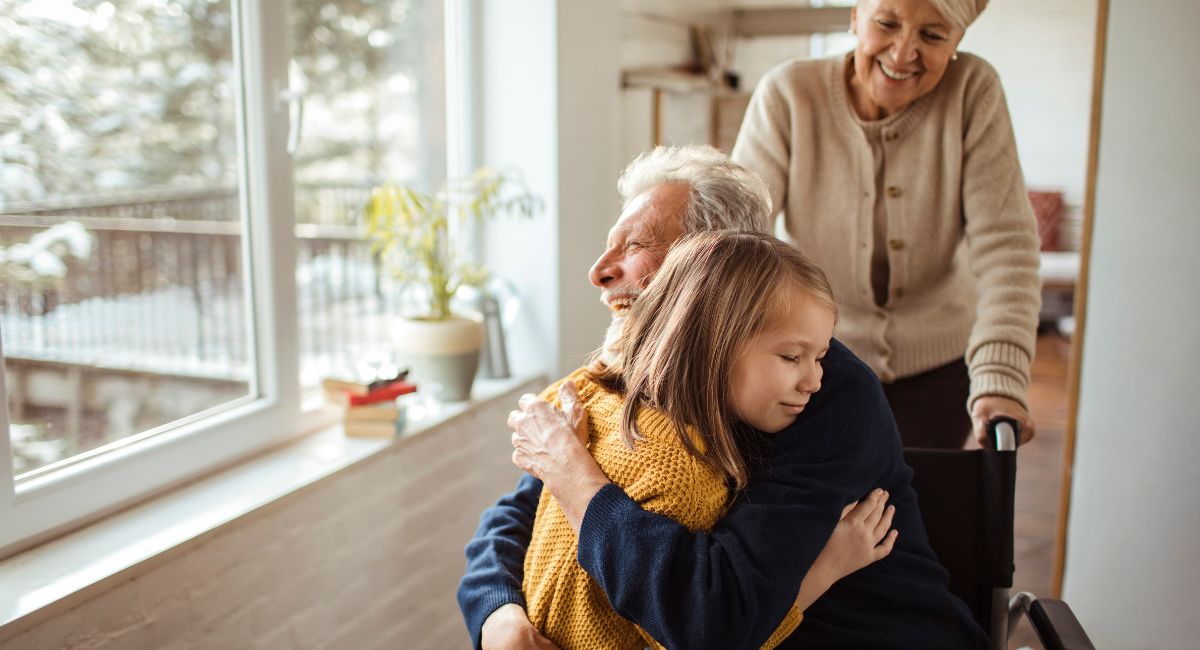 A tumultuous year
Each year, the Australian Unity Wellbeing Index—which is conducted in partnership with Deakin University—tracks how people are feeling about their personal lives and the nation as a whole. Back in June 2023, the survey collected data from more than 2,000 people around the country.
"At the time, there were some concerning things going on around the world," admits lead researcher Dr Kate Lycett, from Deakin University's School of Psychology.
The international stage was tumultuous, with the ongoing war between Russia and Ukraine continuing to dominate headlines. At the same time, climate change was causing alarm, with the Northern Hemisphere beginning its hottest summer on record.
Against that global backdrop, cost of living was dominating the headlines in Australia. Many households were also struggling to stay afloat as the cost of essentials—including housing, energy and groceries—surged.
Sign up for wellbeing news
Get real wellbeing news, information and tips straight to your inbox.
Understanding our wellbeing
"Wellbeing is different for everyone, it's subjective," says Kate. "So we look at how satisfied people are with their 'lives as a whole' and 'their life in Australia', but we also drill down deeper into satisfaction with different domains across their lives."
The seven key domains, or areas, of the Personal Wellbeing Index that the survey explores are: relationships, achieving in life, standard of living, health, community connectedness, personal safety and future security. The survey also tracks six domains of the National Wellbeing Index, including our satisfaction with the economic situation, the natural environment, social conditions, the government, business and national security.
By measuring these fundamentals annually, the Australian Unity Wellbeing Index can develop a robust assessment of how we're tracking as a nation.
This year's survey also delved into a number of topical areas. One area of investigation was the wellbeing of our carers, who play such a vital role in our community, but also face unique challenges. "We know we have an aging population," explains Kate. "So caring is going to become even more important in the future."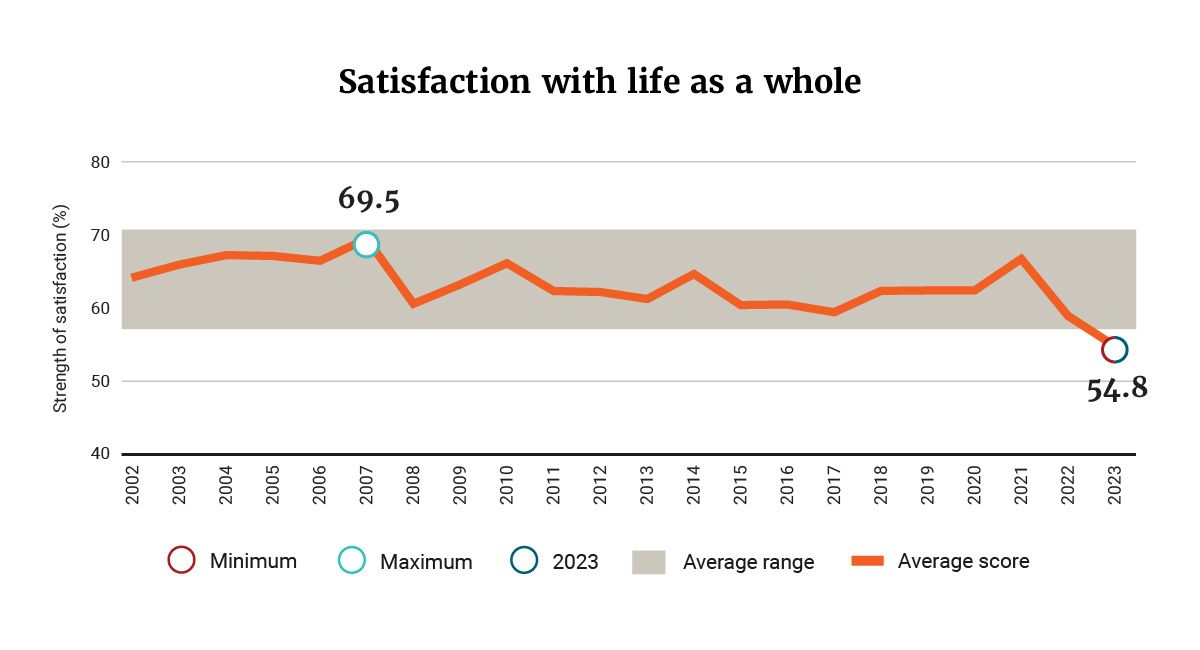 Continuing challenges for our wellbeing
The 2023 findings paint a largely gloomy picture. Last year, the Australian Unity Wellbeing Index survey found that our scores for "satisfaction with life as a whole" plummeted to the lowest level in 22 years, with a score of 74.5. This year, the needle hardly budged. Despite Australia finally leaving behind the most disruptive effects of COVID-19.
"A lot of that is probably coming from the cost-of-living pressures people are feeling," explains Kate. "When they think how satisfied they are with their life overall at the moment, most Australians aren't very satisfied."
The Wellbeing Index also studies a related metric focusing on our "satisfaction with life in Australia". This considers the question through a national lens, exploring how content we are with life in this country. Last year we witnessed the lowest score on record, while 2023 was almost identical.
Given these findings, it may come as little surprise that our national wellbeing scores have also continued to drop. After a record high in the early stages of the COVID-19 pandemic, Australians' national wellbeing is now only slightly higher than the lowest score in the Wellbeing Index's history.
When the researchers drilled down to explore the various domains, or areas, that contributed to this result, it was easy to find the main culprit. "The one that absolutely stood out was 'satisfaction with the economic situation in Australia'," says Kate. "That has registered a sharp decline since 2020 and is now below the average range for the first time.
"We think that's quite important because even when we looked at the Global Financial Crisis in 2008, it didn't drop that low."
Age and income inequities
The fallout from cost-of-living pressures is hitting certain groups particularly hard.
This year's Wellbeing Index found a marked disparity in personal wellbeing levels based on age and income. "There seemed to be a clear divide," says Kate. "Anyone from a household with an income of $100,000 or less had personal wellbeing scores below or at the bottom of the normal range. The same was true of anyone aged 55 years and under compared to older adults."
These groups also registered significantly lower levels of satisfaction with their standard of living—reinforcing the idea that pronounced wellbeing inequities are developing within Australian society based on income and age.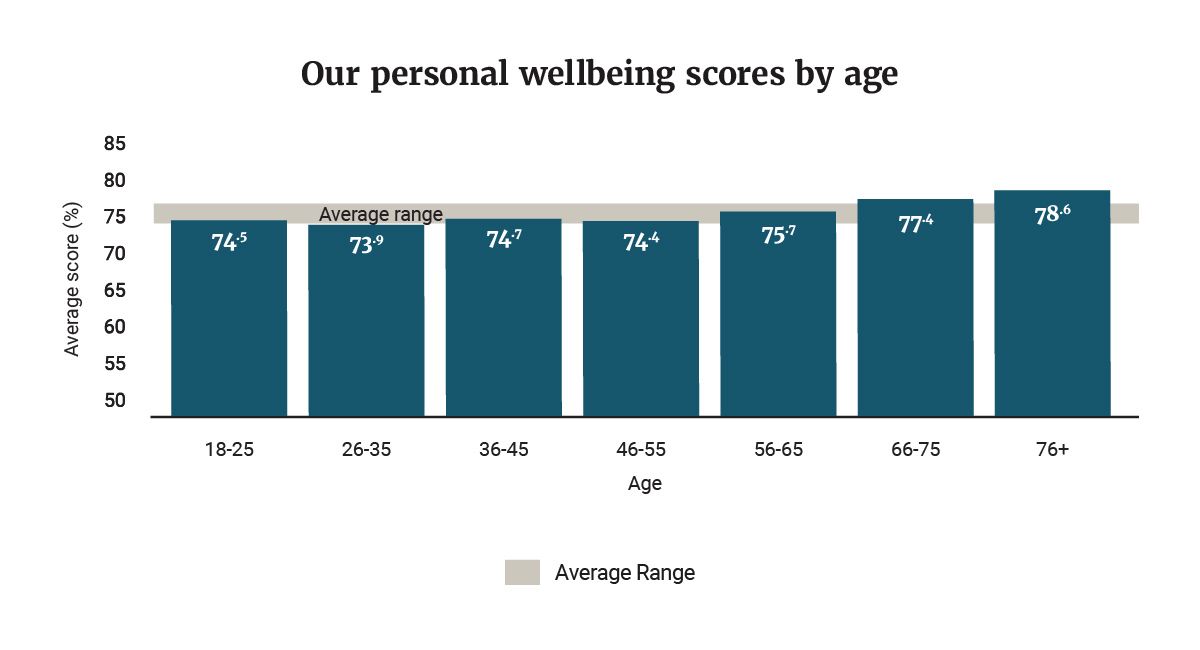 A boosted sense of connection
Searching for more positive news, the research found one undeniable highlight, with our sense of community connectedness recording a tangible increase. This measure relates to our sense of community and how connected we feel to those around us.
"We're speculating, but this may be because, in June 2023, things had returned to normal in terms of the COVID-19 pandemic," Kate says. "There was no longer a need to isolate, for instance. So people were probably able to revive those community connections that they had pre-pandemic."
As one of the seven domains that contribute to our overall wellbeing, community connectedness is always important. Yet, in a year when so many Australians have reported being financially stressed, it perhaps becomes even more valuable. Our sense of community can, after all, fuel us with a feeling of belonging, support and emotional connection—and when we're going through tough times, this can be the glimmer of light we need.

Disclaimer: Information provided in this article is of a general nature. Australian Unity accepts no responsibility for the accuracy of any of the opinions, advice, representations or information contained in this publication. Readers should rely on their own advice and enquiries in making decisions affecting their own health, wellbeing or interest. Interviewee titles and employer are cited as at the time of interview and may have changed since publication.