"Having a clear picture of what a meaningful life would look like and deciding on your personal goals lays the foundation for future conversations about retaining your independence." – Nick O'Callaghan.
While we might like to think that we'll stay young and active forever, most of us need some extra help as we age. If you're one of the many older Australians who would prefer to stay at home, or "age in place" as it's sometimes known, there's plenty of support available. But there may also come a point when you'll feel more comfortable in residential aged care.
These aren't easy things to think about, but experts strongly recommend you begin planning for where and how you'd like to live as you age as early as possible. That way, whatever happens in the future, you'll be in control of your surroundings and your life. This guide will help you on your way by giving you an overview of the options.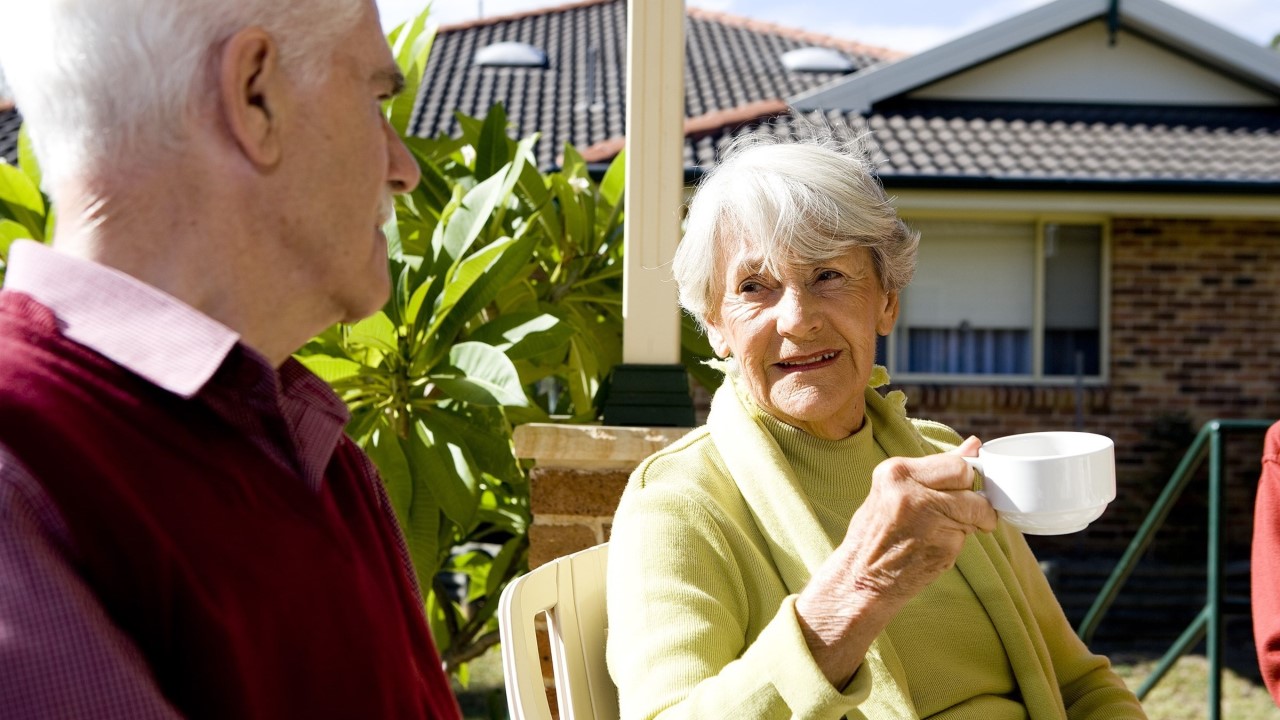 Starting your decision-making process
Whether you're thinking of staying at home or moving into residential aged care, it's a good idea to start the process as soon as you feel challenged by any aspect of everyday living. The first step? An assessment of your needs, which will determine your eligibility for any funding or government support should you wish to apply, alternatively you can access services privately.
"Your GP can arrange an independent assessment of the kind of help you need – or, if you'd rather, you can do this yourself through the My Aged Care website," says Beverly Smith, Executive General Manager of Australian Unity's Residential Communities.
To do the assessment, a nurse or clinician from My Aged Care will visit you at home or set up a virtual meeting.
"They'll chat with you about the things you find difficult and the kind of support you'd find most helpful to support your independence," says Beverly. "The assessment will open the door to government subsidies for support and set you on a path for ongoing support."
There are two different government subsidies for people staying at home: the Commonwealth Home Support Programme (CHSP), which provides basic or short-term support; and Home Care Packages, which have four levels of funding and support. The government also subsidises some places in aged care homes.
Why stay at home?
Living at home as you get older brings the comfort of the familiar, as well as the reassurance of independence and control.
"Being able to make your own decisions can be good for your self-confidence and emotional wellbeing," says Nick O'Callaghan, Executive General Manager of Australian Unity's Home and Disability Services. "You may also have established local friendships and social routines, as well as the emotional attachments that come with a lifetime of memories."
These days, there are many different services available to help you stay at home as long as possible. "We suggest you talk to a number of organisations about what's available," says Nick. "In terms of services, we offer everything from cleaning and home maintenance through to personal care, social support and allied health."
This can even include help with food and cooking. "Again, we have a whole range of services to make sure our customers are regularly eating well, from helping with shopping to delivering ready-cooked meals," says Nick. "We recognise it's another important aspect of staying independent as long as possible."
The upshot? Staying at home means you can continue on with your life – just with a bit more help. As Nick says, "The support is all about maintaining independence, and it's tailored to each person's needs."
Why move into residential aged care?
There may come a point where staying at home is no longer safe or comfortable, even with the highest levels of subsidised support. Aged care homes can provide 24-hour care and intensive medical support, which may not be available with home care.
Residential aged care means you're no longer responsible for maintaining a home or completing your everyday chores – while these can often be supported through home care, you may feel more comfortable if these are no longer a consideration.
For people who have previously lived alone, it can also provide the opportunity to make new friends and take part in activities and outings. It's particularly important, therefore, to make sure that you find aged care home that suits you, with a 'feel' you like.
If residential aged care is an option you're considering, Beverly reiterates the need to plan ahead. "If you become ill or have an accident, you might need to go straight from hospital to residential aged care," says Beverly. "This can be a very emotional decision for you and your family, and you might feel rushed to accept what's available rather than having had more time to consider your choice of where you want to live."
If you've planned ahead and researched different homes, however, the transition will be smoother and you'll know you're living in a place where you'll be comfortable and happy.
Other options for help
While home care and residential aged care are two of the most common solutions for additional support, there's also a range of other options, particularly if you're still relatively physically active and your needs are more social or emotional.
"If your lifelong partner or a carer has passed away, loneliness can have a very big impact on both your physical and mental health," says Beverly.
One solution could be to join a social program designed to bring people together. Australian Unity organises group outings and get-togethers, and can help its home care customers stay in touch with friends. "When we had to pause group social activities because of COVID-19, we set up virtual connections," says Nick.
Another option could be a move to a retirement community. "This can provide independence and easy access to support in a more social environment," continues Beverly.
Shaping your own future
Whatever your age and level of fitness, Nick stresses that it's never too soon to plan.
"Long before you need any kind of help you can start thinking about what you really want for your future," he says. "Having a clear picture of what a meaningful life would look like and deciding on your personal goals will lay the foundation for future conversations about retaining your independence.
"The whole aged care sector is moving towards providing the best possible customer outcomes, but, to make the most of all that's available to you, you need to know what the best outcomes would be for you."
Making the decision to stay at home or move to residential care is an emotional one. But by thinking about your options early and discussing your plans with your friends and family, you can get on the front foot and plan for the future you want.
Disclaimer: Information provided in this article is of a general nature. Australian Unity accepts no responsibility for the accuracy of any of the opinions, advice, representations or information contained in this publication. Readers should rely on their own advice and enquiries in making decisions affecting their own health, wellbeing or interest.