"Managing that fatigue and the heightened state of emotions was hard. We danced between fear, panic, normalisation and catastrophe." – Janine Leonard.
It was New Year's Eve when Home Care Worker Anette Gradinger-Walton got a phone call warning her that the fires rolling around southern New South Wales might cut off her route home.
Still with a customer, she told her base office in Illawarra South that she would unload some groceries for the customer, then head home to Lake Conjola, where her two teenagers were alone.
"A lot of us kept thinking, 'It's on the other side of the highway, we'll be all right', but by the time I got to Milton, the fires were rolling over the road."
Undeterred, Anette drove as close as she could – to Narrawallee Inlet, a creek crossing 4.5 kilometres from home.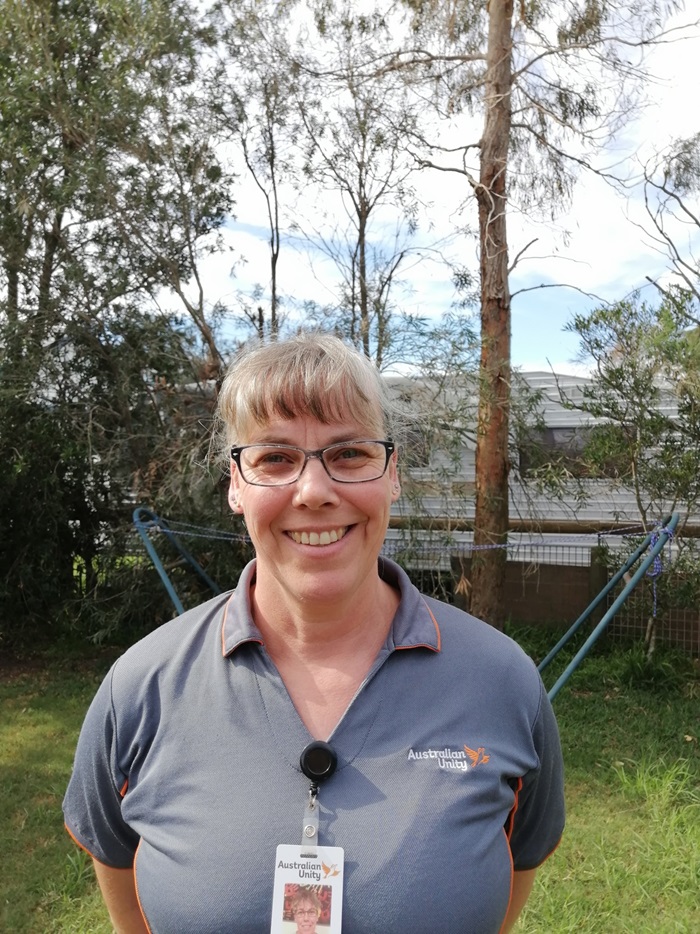 "The tidal current was really strong – too strong to swim across – but I saw some people returning in kayaks, so I waved them over and explained I needed to get across," Anette says.
With her essentials in a bucket to keep them dry, her "knight in a one-person kayak" paddled her across. "I never found out who he was."
Initially, the heat and smoke were so strong there was no safe space on the beach, but when the wind changed, she started walking.
During the trek, with firefighting aircraft buzzing overhead, Anette saw many dead and injured animals.
"I spotted a kookaburra in the waves and put it under one arm, then I saw a tawny frogmouth and put it under the other arm; later I collected a magpie, too," she says.
Finally, she reached Lake Conjola, where people had evacuated to the beach.
"We live right by the lake so we had told the kids to stay with the house because the fire was unlikely to get to that point. The island opposite has a few homes and one of the owners was standing outside our place watching her house burn down, just a few hundred metres away."
However, her children were safe, their pets secured, and the house survived.
"Our daughter Linnea, who's in year 9, had got the animals ready in case she needed to evacuate, and our son, William, who's in year 12 and a member of the local fire brigade, had hosed down the house."
All three birds – the kookaburra, the tawny frogmouth and the magpie – recovered and were released the next day, "so that was our happy story", she says.
Anette later discovered that her husband, Ray, had to swim across the creek to get home. A former firefighter, he took Linnea to check a neighbour's home because they were away. "I think my kids learned a lot that day," Anette says.
Janine Leonard, Australian Unity's Branch Manager at Illawarra South, says the whole team gained vital experience from this real-life training.
"We had customers who lost homes, Care Workers whose partners were fighting fires, one Care Worker lost their home. You didn't know what you were waking up to each day," Janine says.
"Everyone along the coastal strip was affected in one way or another; we all knew someone who had lost a home; or lost a life."
"The biggest thing was that management listened and responded through daily contact to keep everyone informed. There was no such thing as too much communication."
The next step was trying to trace their customers. Who had been evacuated? Who had support? It was also necessary to alert the Red Cross to those who would be most vulnerable.
"We organised a phone support team to contact customers up and down the coast, and regional offices sent in staff to support affected areas," Janine says.
The ongoing uncertainty was exhausting. It began on November 12, when the Illawarra and Sydney areas were classified as catastrophic fire zones and continued through hazardous air quality and out-of-control fires in December, to a state of emergency after the New Year's Eve fires. The long-awaited rain brought flooding in mid-February, but then the news of the outbreak of COVID-19 followed.
"Managing that fatigue and the heightened state of emotions was hard," Janine says. "We danced between fear, panic, normalisation and catastrophe."
The situation tested their emergency plans, many of which had been devised to deal with individual circumstances, not ongoing, complex situations.
"We had to take a battleground approach," Janine says. "We had to plan for the long term as well as the immediate situation.
"But it has helped the team prepare for the COVID-19 emergency," she says. "We instantly considered the worst-case scenario and planned for that, so we've been one step ahead."