"I love the job I'm doing. I wake up in the morning and say, 'how could I make someone smile today?'" – Elleni Bereded-Samuel.
When Elleni Bereded-Samuel started her life in Melbourne with her 11-month-old son, a daughter on the way and an unemployed engineer husband, all she owned was a mattress. It was 1995 and the family was living in a small, rented flat in Footscray.
Twenty-four years later, Elleni, Executive Manager, Diversity and Capability Development, Independent & Assisted Living, Australian Unity, was made a Member of the Order of Australia (AM) in this year's Australia Day awards. The honour recognises her outstanding service and reflects the nation's pride in her accomplishments and gratitude for her efforts. She received a personal invitation from the former President of Portugal Jorge Sampaio, High Representative for the United Nations Alliance of Civilization to speak on social inclusion at the 4th UNAOC Conference in Doha, Qatar.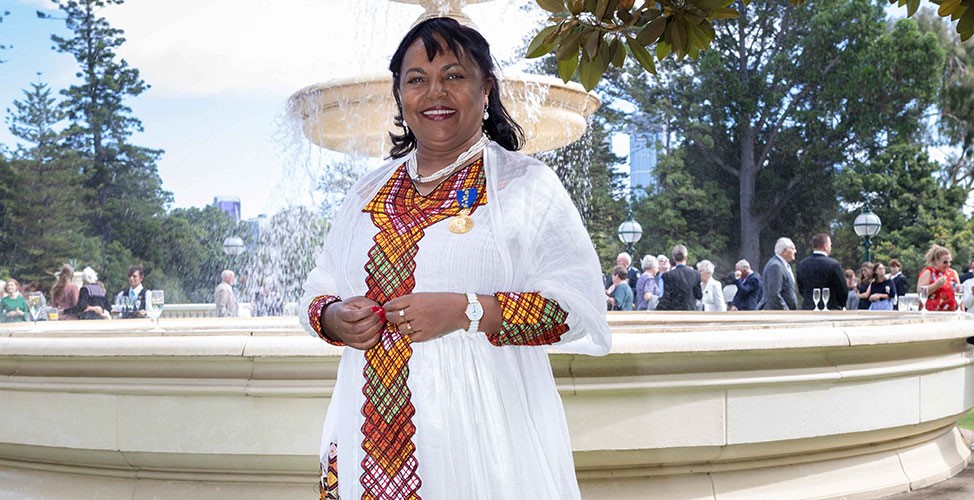 Elleni has created jobs for herself while finding work for countless others. She sits on state and federal boards and has a string of firsts to her name. Isolation was the fuel that took this dynamo from struggling refugee to champion of the underprivileged.
"I don't want people to go through what I went through," she says. "What fuels me is seeing the result. People come to you and say, 'I am hopeless'. I look at their strengths and give them mentoring and the courage to fulfil their potential."
Elleni is a woman who does not sit still for long. Nor does she go unnoticed, despite being gently spoken. The day after she secured her Footscray flat, the former teacher and journalist in Ethiopia's capital of Addis Ababa marched into the nearby Red Cross shop and started as a volunteer.
She did such a good job that advocacy and support group WestCASA and the Maribyrnong Council snapped her up. Here, she started a project to empower African-Australian women to tell their stories to their children and grandchildren.
The stories were published and the book impressed officials so much that Elleni was invited to create her own job at Victoria University.
Here are just a few of Elleni's career highlights:
1. Five years at Australian Unity
"We started from nothing and created a partnership model on how Australian Unity, the government and communities can work together. My motto is that we are working with the most disadvantaged people in society."
2. Seventeen years at Victoria University
"Guiding countless people into a better life. They are like a family, because we went through the difficult journey together. For example, the first Sudanese lawyer in Victoria. He came to me and said, 'I want to be a lawyer'. I said, 'start somewhere and build it up'. He came through with flying colours and became a lawyer."
3. AM, Order of Australia
"That's a big surprise. There are a lot of people who do amazing work. Do I line up with them? I don't know."
4. Many firsts
"Being the first at Victoria University to do community engagement, the first at Australian Unity to do the job I'm doing, the first at CatholicCare as a community development worker. I created all these jobs and they paved the way for others. The first Victorian Multicultural Commissioner of African background, the first first-generation migrant on the board of SBS. The first African-Australian appointed to the VicHealth board."
5. Diversity Champion Award in 2008
"Bob Geldof presented the award. That was a big highlight."
6. Australia 2020 summit, 2008
"It was a big achievement. I was also invited to sit on the panel in the live audience on Sky News for an hour of the session."
7. United Nations Alliance of Civilizations conference (UNAOC)
"Kevin Rudd was there. I was presenting a paper on social inclusion."
8. 100 Women of Influence national award in 2013
"I went to Sydney for the award ceremony and I walked into the room and, for the first time, I knew no-one because the women were big CEOs. I went up and spoke to a CEO and she said, 'I don't know anyone either'."
9. Founding member and Chair of Horn of Africa Communities Network
"Now we are helping anyone, including international students… migrants from anywhere. Not just Africans. We are thinking to change the name."
Elleni could not have achieved as much as she has without the solid support of her family: husband Terefe, son Gabriel, 24, who studied psychology, and daughter Rediete, 23, who is studying law at the University of Melbourne. "They mean the world to me. Without their support, my success wouldn't have been possible," she says.
"Rediete means blessing in Amharic. Our political asylum application was approved just before she was born.
"I'm lucky. My biggest highlight is my life in Australia. From struggling, having nothing, to building a house in Point Cook and living the life we are living and sending my kids through university. My father always said, 'your house can burn, your car can go, but education you always have'.
"I love the job I'm doing. I wake up in the morning and say, 'how could I make someone smile today?' My boss, Kevin McCoy, is a great mentor to me, and I am so grateful for that."
Her biggest inspiration, she says, is leading. "I may be the first one, but I always want to pave the way for others. They then pave the way for others. It's a chain event."
Words: Harbant Gill