"I'm just so enormously proud, the solutions came from within Wilcannia, and just seeing good organisations like Australian Unity with Luke being able to ask 'what can we do?' and just getting in and doing it."—Debbie Evans.
Key points
Australian Unity has been at the forefront of helping Wilcannia fight a COVID-19 outbreak
Wilcannia residents have been provided with face masks and transport to get tested and vaccinated
Community spirit has been an important factor in successfully dealing with the rapid spread of the virus
"I was seeing the strength of Wilcannia and seeing everyone really pull together to get the job done."
Debbie Evans has never been prouder of her hometown of Wilcannia.
When COVID-19 hit the tiny Western NSW town it was a true country community spirit—and a helping hand from Australian Unity—that has helped get them through.
"I saw the Wilcannia I grew up in, where people just pulled together, people made sure vulnerable people were fed and supported," Debbie says.
With a population of just under 750 people, the close-knit community more than 550 kilometres west of Dubbo has been one of the hardest hit by the surge in COVID-19 Delta cases across the state.
At one stage, more than one in seven people in the township had tested positive, but thankfully, help has been at hand.
Australian Unity's Luke Driscoll has been right at the forefront of that assistance. Based in Broken Hill, Luke is a Service Coordinator for Australian Unity's Aboriginal Home Care service.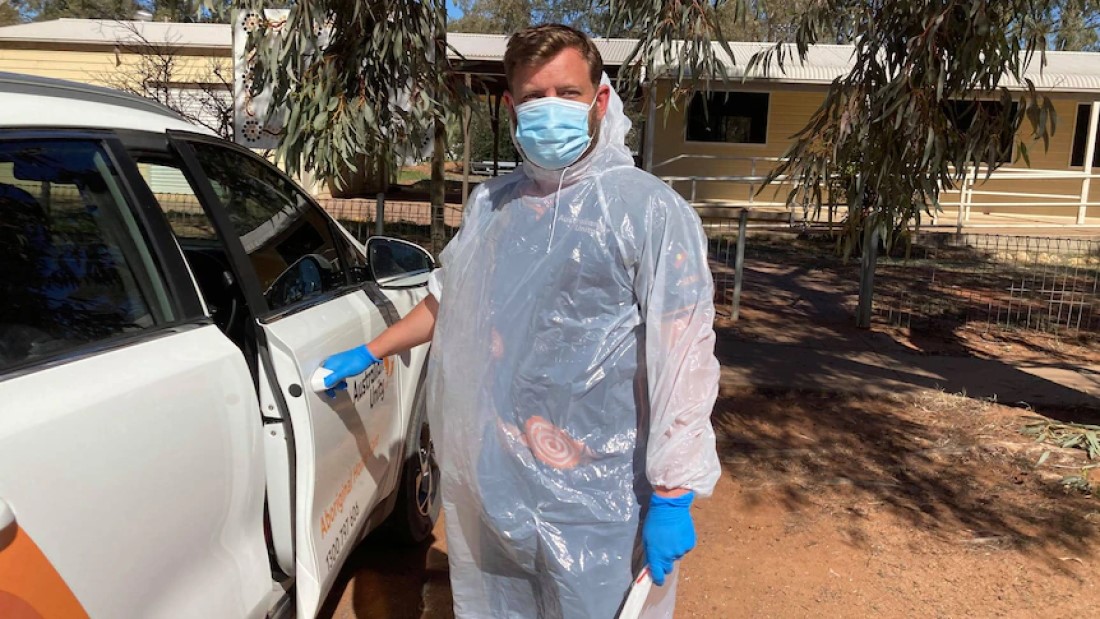 Luke Driscoll in full PPE gear as he supports Wilcannia's community. (Picture courtesy ABC Broken Hill: Callum Marshall)
When the outbreak first hit, Luke put his hand up to lead the response, making the 400-kilometre round trip on a daily basis to help transport people to get tested, treated and vaccinated. In addition, he also delivered meals, clothing and other items to people who were isolating in their homes.
"We were asked by NSW Transport to help with getting people vaccinated and getting tested," Luke says.
"There are a lot of people trying to provide assistance so people can stay home. It's been a true community effort, people helping with the food drive delivering tons of supplies.
"Wilcannia is a tiny town but it's a very tight-knit community. We've had lots of thank-yous from people, which has been great to hear. I've been like the courier from Broken Hill to Wilcannia, delivering clothing and food, things like that."
Community spirit shines
For Debbie and her mother Shirley, who is an Australian Unity Aboriginal Home Care customer, Luke's help has not only been vital but is also emblematic of the spirit of the Wilcannia community.
"I think one of the fantastic things Luke did was just went in and said 'what's the most humane, decent thing to do here that we can do as an organisation?' and he approached it from that perspective," Debbie says.
"For me, it was just so refreshing to see an organisation respond like that; they were one of the first organisations there on the ground and if they hadn't been there in those early days things would have been very different.
"So it was so nice to hear a knock on the door and here's Luke in full PPE with a hot meal for my mother and myself."
Executive General Manager of Indigenous Services Ken Markwell says Australian Unity has also provided 5,000 face masks, access to its new office facilities for local organisations and is helping with the provision of meals to Wilcannia residents, along with free transport to pop-up testing and vaccination clinics.
Mr Markwell says Australian Unity has engaged with Elders, government, community members and other local service providers to help facilitate the timely provision of COVID-19 vaccinations and culturally appropriate and COVID-safe care.
"I am proud of how our team have and continue to respond especially our frontline workers and those who support them. They are my heroes!" he says.
"It's vital that our mob be involved in services and programs that have an impact on our lives and I look forward to working with government to best identify and meet the needs of Aboriginal people."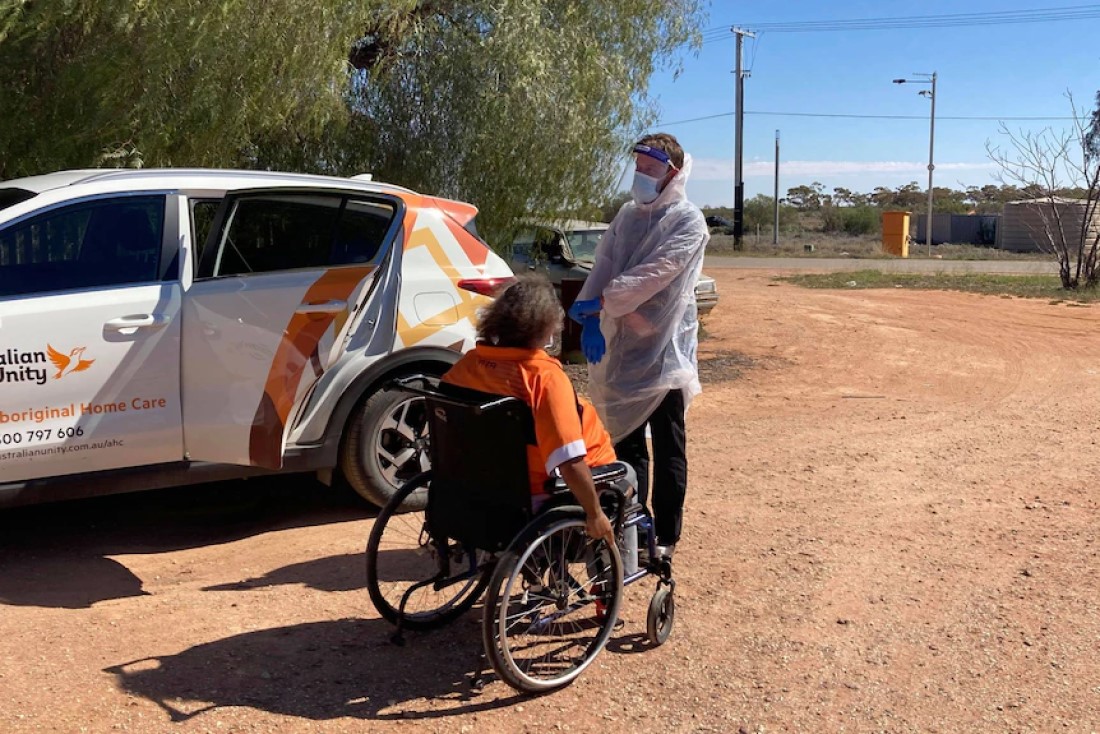 Luke Driscoll helps a Wilcannia resident into a car before taking them to get tested. (ABC Broken Hill: Bill Ormonde)
Mr Markwell says services for Aboriginal people are most effective when the community is involved in the planning, co-development and implementation stages.
"The current threat from COVID-19 to our communities is a shared experience," Mr Markwell says.
"We are all going through this together and I know everyone is doing the best they can in difficult circumstances.
"COVID-19 has made the ability to provide safe and culturally appropriate care to our people even more challenging particularly to those in remote and very remote communities.
"Helping each other, working together, and doing whatever we can to support our Elders and our vulnerable mob must be our priority."
Doing whatever it takes
Debbie echoes Mr Markwell's sentiments, describing how heartening it was to see Wilcannia "be its best self again".
"I'm just so grateful, it not only gave us hope, it also gave us a lot of comfort," Debbie says of Australian Unity's help.
"When Luke and others were making sure people could get tested and get vaccinated, making sure they had transport, and when that was all sorted he wanted to know what's the next best thing we can do—and that was make sure people had a hot meal every day.
"And he didn't back out straight away either; he was off delivering stuff for the kids, and just doing whatever it took, driving 200 kilometres each way, every day. He had a sense of the town and what was needed and he was there with his sleeves rolled up, when so many other organisations weren't.
"I'm just so enormously proud, the solutions came from within Wilcannia, and just seeing good organisations like Australian Unity with Luke being able to ask 'what can we do?' and just getting in and doing it.
"Those two things just made my heart sing. This is that community strength, this is what true self-determination is about, being able to solve our own problems and having the right to solve those problems."