"I enjoy feeling like I'm helping people and making someone's life a little bit better. It's the little things that make a difference to people's lives here."—Gregor Poole.
Gregor Poole never imagined he'd end up working in the aged care sector.
But after two decades of working in the hospitality and events industry, both overseas and in Australia, he realised something was missing from his life.
"I was working at Scotch College in Hawthorn managing functions and events. One day I decided that I wanted to help people more. So I enrolled in a carers course at TAFE," Gregor explains, adding that he has since gone on to complete a university degree.
This career change has paid off for Gregor, whose role as Community Development Manager at Australian Unity's Rathdowne Place Aged Care and Colgan Respite Centre enables him to help others every day.
Describing his workplace of seven years as "an amazing place to work," Gregor has been with the residential aged care community located in the inner-Melbourne suburb of Carlton since its inception.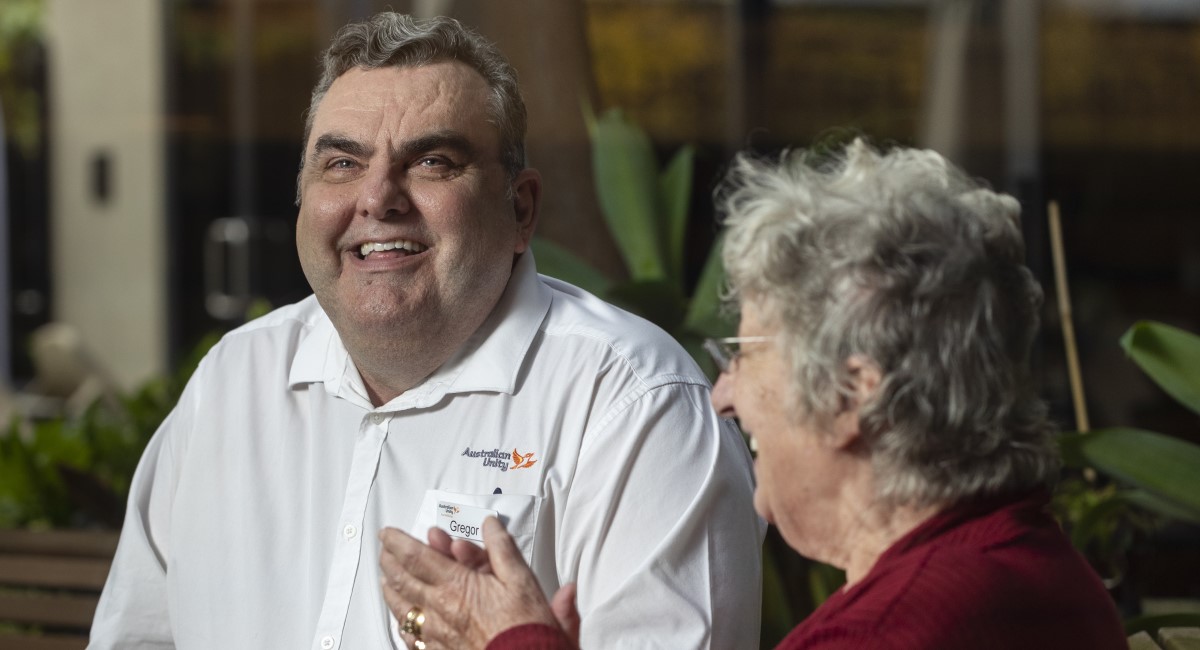 Over the years, he's worked in various roles, including respite manager, where he helped to establish the Colgan Respite Centre, a space that supports people to remain connected with the community while enabling their carers to have a break.
Gregor's current position is a dynamic one, with responsibilities including the coordination of activities and events and the management of the Moments That Matter psychosocial program.
From booking entertainers to arranging barbecues, scheduling movie screenings and facilitating sessions of tombola (an Italian form of bingo that's a hit with residents), Gregor and his team make sure that up to eight different activities run each day, in addition to ad hoc activities and events that are added to the program throughout the year.
Gregor believes that it's important to listen to feedback from residents instead of imposing his own ideas of what activities people should participate in. "The residents tell us what they want to do, and we make it happen," he says.
He also oversees the volunteer program that enables local community members to share their time with residents in unique ways.
"One volunteer called David takes residents riding around Melbourne on a trishaw once a week. They always come back with big smiles and windswept hair," Gregor says.
Better together
With bringing people together a key focus of Gregor's role, last year was a particularly challenging one.
During the pandemic, Gregor and his team worked hard to reinforce a strong sense of community and ensure social isolation didn't creep in, especially when family and volunteer visits weren't possible.
"Throughout COVID-19 we did more social checks to make sure everyone was connecting with their families. We scheduled something like 175 calls a week on iPads," he says.
Recognising that social inclusion is integral to healthy ageing, Gregor is proud of creating an activities and events program that reflects the diverse religious and cultural make-up of its residents.
"We have 17 different cultures throughout the building, so we put on a lot of different activities to celebrate the various nationalities and cultures of the people living here," Gregor says.
"We have some Hindu residents, so we celebrated the Holi festival. Residents and staff were encouraged to dress up in bright colours. Some staff dressed in cultural attire, too. We didn't do the throwing of the colours as we thought that would be a little intense, so we did face painting instead followed by an Indian lunch."
Making a difference
When he's not working, Gregor enjoys the simple things in life: gardening, socialising with friends and spending time with his three pet parrots, Ringo, Maggie and Toby.
"They're like my children! They're very intelligent animals and like to talk to me. They get sulky if you're not around and demand your attention. They're great company. We do quite a bit together," Gregor says.
Over the years, Gregor has seen many people come and go from Rathdowne Place. Managing the emotions associated with losing a resident is something he constantly grapples with.
"One of the biggest things I struggle to deal with is the passing of residents. It takes a lot out of me. You never get used to it. These people are my friends and I care for them a lot, so sometimes I have to take a few minutes out of my day to pull myself together," he reflects.
Despite the challenges, Gregor feels he's found a rewarding vocation that is rich with purpose and meaning.
"I love Rathdowne Place's residents. I enjoy feeling like I'm helping people and making someone's life a little bit better. It's the little things that make a difference to people's lives here. I'm always looking for small opportunities to make a difference," Gregor says.
Words: Jo Stewart Pictures: Dean Golja