For the second year in a row, Australian Unity's Rathdowne Place Aged Care has partnered with RMIT and the Ngarara Willim Centre to welcome an artist for NAIDOC Week.
Eleanor Franks, a proud Gubbi Gubbi woman studying Bachelor of Fine Arts at RMIT, spent a week at Rathdowne Place, creating three print works that reflected this year's NAIDOC Week theme, "Voice. Treaty. Truth".
"Voice is represented by Cockatoos, who are loud, with a big voice, showing we can all come together," Eleanor explained.
"Treaty was about working with the government, so the lines represent people coming together to talk about the treaty. The flowers are the Waratah of NSW and the Royal Bluebell of the ACT, representing parliament.
"Truth, I chose Queensland's state flower, the Cooktown Orchid, because that's my personal truth, being where my father's from."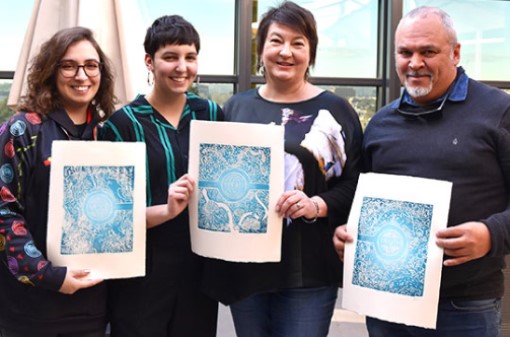 Eleanor unveiled her work at a special event, attended by Rathdowne Place residents and staff, as well as guests from RMIT and the Ngarara Willim Centre.
General Manager of Rathdowne Place, Gavin Young, praised Eleanor's enthusiasm.
"Eleanor spent the week engaging with the Rathdowne Place community and she enlightened our guests about where she drew her inspiration from and how it poignantly aligned to this year's NAIDOC Week theme," he said.
"These beautiful pieces of art were purchased by Rathdowne Place and will proudly hang on the ground floor."
Eleanor found the public studio space allowed her to interact with residents, visitors and staff, an opportunity not normally available when working in a studio.
"I've had some interesting questions, people have been asking "how do you see what you design" and I've never really thought too much about that," Eleanor said.
"So that'll help me in the future, I'm now focusing more on my journaling and starting to think more about my processes."
Eleanor also explained how moving to Melbourne and studying at RMIT has strengthened her connection to community.
"NAIDOC is becoming more involved in my life," she said.
"Coming from a small country town it wasn't really talked about. But, in Melbourne there's pride and the mob here are more active. My passion has grown and that shows in my artwork.
"Melbourne has been a dream. It's helped with my indigenous identity, my life and my art."