"I do my daily ritual of weeding the veggie patch and picking a salad and herbs for dinner. Having the space for a garden means the world to me." – Mum and small business owner.
Real Wellbeing is so much more than just our health – it relies on a range of factors, including our finances, sense of purpose, relationships, connection to our community, safety and our feelings about our future. Here we follow a week in the life of a small business owner and mum to explore how she looks after her wellbeing.
Age: 42
Job: Director of a consultancy-based business
Lifestyle: Lives with her husband, nine-year-old son and two cats in suburban Melbourne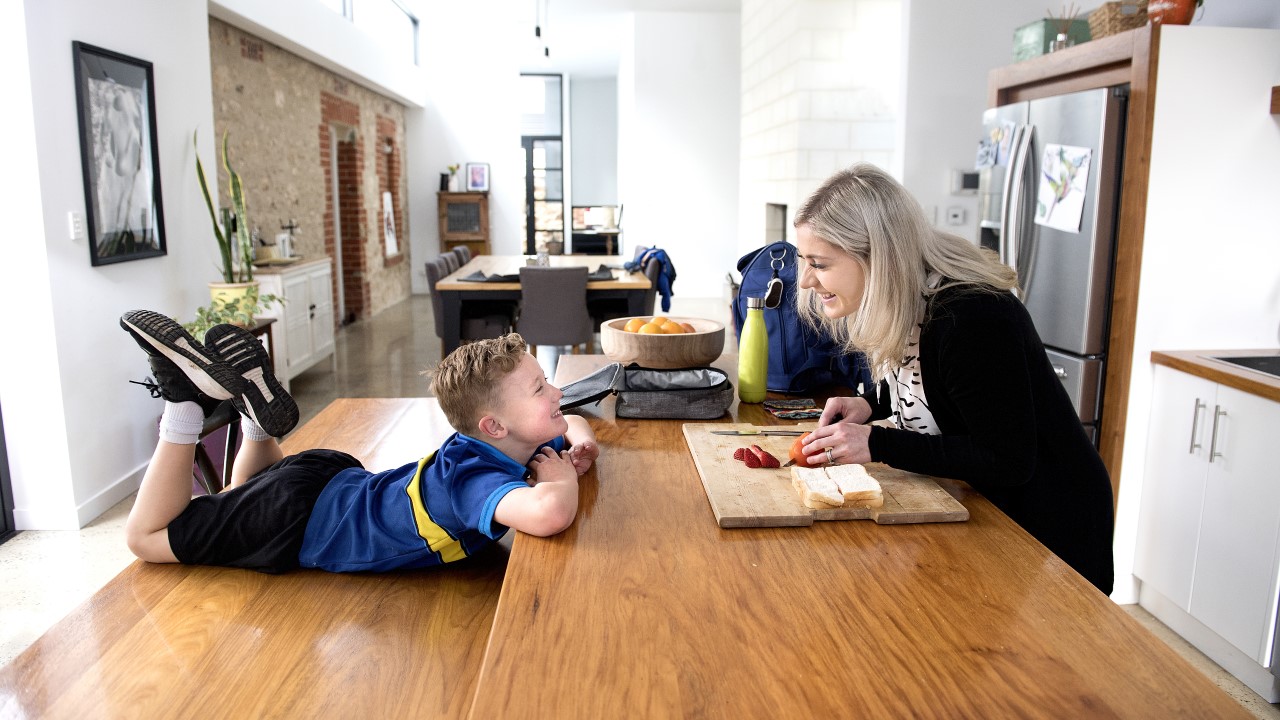 Day one: Monday
My alarm goes off at both 7:00am and 7:25am – my intention is to get up at early, but unless I have a meeting to get to, I'm kidding myself. At 7:30am I get up and make a black coffee, and while the water boils, put away last night's dishes and feed the cats. I like to start the day and the week clutter-free.
I'm in my home office by 9:00am. After writing down a list of things to do, I prepare for a client meeting, in which we discuss the deliverables for the week ahead. We are blessed to work with good clients. This hasn't always been the case, so my business partner and I made a conscious decision when starting our company to only work with nice people. We still have our worries, but this simple decision has made such a difference to our mental health.
While working, I notice my sight is blurry. I have a rare eye disease, which has been getting worse over the past few days. I make an appointment to see my ophthalmologist and am lucky that he can squeeze me in that afternoon. Work is not as productive as I would have liked as a result, and we have a lot to do, so I'm feeling anxious all round.
Day two: Tuesday
Unfortunately, my eye needed treatment so I'm feeling disheartened. As I'm basically in front of a screen all day, I need to take regular breaks to rest my eyes, so we go on a long walk. I spend the rest of the day on tasks that involve a lot of emailing and organising rather than heavy-duty thinking.
After a dinner of lamb chops, potatoes and pumpkin, greens and salad, I make a beeline for bed for an early night. My husband and son jump in with me and we watch The One and Only Ivan, which makes us all cry.
Day three: Wednesday
Hump day. Mid-morning, an ex-colleague calls to check in and see how I'm going, which is a lovely surprise as it can feel very disconnected working from home – even if I share my office with my husband and (home-schooled, thanks to COVID-19) son.
We're on deadline this week, so after a catch up with my business partner, it's back to the grind. We eat lunch – a simple soup – outside, and I do my daily ritual of weeding the veggie patch and picking a salad and herbs for dinner. Having the space for a garden means the world to me.
More work, a quick walk and a chat with our lovely neighbour before dinner. I've been good – no wine since Saturday night!
Day four: Thursday
Today feels slow-paced and a bit of a slog, but work is steady and productive. It's windy and horrible outside despite the sunshine, so I miss my walk and therefore my daily dose of vitamin D.
My husband pays a visit to his mum, does the weekly grocery shopping for his dad, and comes home distracted and a bit grumpy. His parents are older, divorced and living alone – they have difficultly grasping technology, which strains his patience. I listen to him vent before stopping work to make dinner – stir-fried beef noodles.
Day five: Friday
I take my morning coffee back to bed and check emails. It's pay day, so I process the pay run for my business partner and myself, then spend a few minutes allocating money into various accounts and checking what we've spent for the week on Pocketbook. Over the past few years, and particularly now that I run a business, my mindset has totally changed around money. Our focus is very much about saving and getting out of debt as soon as we can.
I sit down at my desk at 9am and attack the to-do list. Fridays are usually quieter than other days, so it's a good time for more-creative tasks or getting ahead on admin.
Lunch, then back to work for a few hours before the family walk. We're very lucky to live a few minutes away from a creek that has a beautiful walking trail, so we head down there for some greenery and fresh air.
We've got drinks tonight with some friends over Zoom, so kickstart that at 5:00pm. My son has requested pizza, so my husband does the honours while I catch up and drink wine with my friends.
Day six: Saturday
Saturday is house-cleaning day! I spend the working week in our home office, so it gives me peace of mind to have a clean home to relax in over the weekend. Plus, cleaning is considered a workout, right?
I go food shopping with my 70-year-old Italian father after lunch. It gets him out of the house and means we can catch up – we mostly talk about food anyway! My dad doesn't ask "How are you?", he says "What are you cooking?" It also means shopping takes longer than it should, and I spend more than budgeted.
Once home, I spend an hour or so prepping vegetables and fruits for the week ahead. I've found that, however busy I get during the week, having food ready to go makes life so much easier and healthier, and we're more likely to avoid takeaway…
Dinner is takeaway KFC because we are too tired to cook (and I get coerced into it by the boys), followed by movies and more wine.
Day seven: Sunday
Sunday is a lazy day. I think about doing a workout but instead we go for a long walk. After lunch, I make a big pot of tea and sit in our book room to cross-stitch, while my son plays video games and my husband does a puzzle. Cross-stitching is a hobby I've had since I was a kid, and even though I know it's daggy, I find it very meditative.
More wine as we cook souvlakis with homemade pita bread and hummus. I pick the salad from my veggie patch.
A cup of tea and an early night in preparation for the week ahead.
How do I rate my wellbeing?
It was a tough week emotionally, as I've been anxious about my eye health and have had to push through those feelings and keep going because we've had deadlines to hit. That said, I feel like have those deadlines (or goals, to put it more optimistically!) really helped me keep going through the week, so that's a positive.
On the plus side, I limited wine to the weekend, and while I need to get back into a structured exercise program, we managed a walk six out of seven days. We ate healthily too, lots of "fake-away", but with the exception of the KFC splurge, it was all homemade.
Moneywise, we're definitely spending less than ever before, so we're making great progress on our mortgage and savings – it's not exactly where I'd like it to be, but changing our approach is starting to make a difference.
Most of all, I'm grateful that I have strong relationships and connections, and this support has definitely helped this week.
Disclaimer: Information provided in this article is of a general nature. Australian Unity accepts no responsibility for the accuracy of any of the opinions, advice, representations or information contained in this publication. Readers should rely on their own advice and enquiries in making decisions affecting their own health, wellbeing or interest.