"My doctor reckons I am the youngest 90-year-old he's got." – Wal Browning.
You don't need to see Wal Browning to realise how sprightly the 90-year-old world-record holder and sporting medallist is … you can hear it in his voice. Which is ironic, as Wal relies on another voice – that of good friend John Gwynne – to be his eyes.
Henry Wallace (Wal) Browning is legally blind. On the bowls rink, John Gwynne is Wal's director, his "seeing-eye human" who verbally directs his bowls. Together they have achieved plenty, winning gold medals and the 2007 International Bowls for the Disabled World Championship.
Born in Casino, New South Wales, Wal developed glaucoma in mid-life leading to blindness in his right eye and limited vision in his left eye. His mind, however, is razor sharp. "I left school at 14 years eight months and became a telegram boy at Casino post office," he says.
He later worked at local fabric trader Heathwoods, learning enough Indonesian and Javanese to chat with inmates at a World War II internment camp, and says, "I brought a lot of business in". Wal joined the railway in 1946 and was an information officer in Sydney until 1986.
He took up bowls aged 30, "which was very young in those days. I was always fairly competitive in bowls through my life," he says.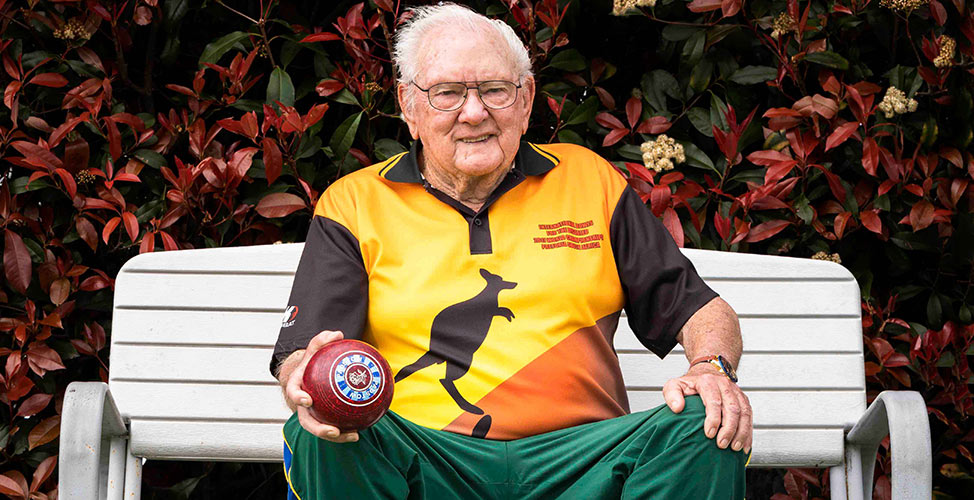 He played district grade as a sighted bowler, but his most significant sporting and community achievements have come after retirement. Wal quickly lists his organisations and roles: Padstow Progress Association (President and Secretary); Bankstown Bushland Society (Treasurer); South West Environment Centre (Treasurer).
Though his vision impairment began to affect his sport — in his left eye, Wal had only tunnel vision — he wasn't ready to slow down. So he joined the Vision-Impaired Blind Bowlers Association: "That way I could become competitive again," he says. He won the state title and went to New Zealand for the Trans-Tasman bowls series in 2006. John volunteered to go with him.
"John accompanied me on my trips and as a 'director', who becomes your eyes … he gives you distance, how far the bowls are away from the jack. You can ask him questions: how far down the jack is, whether the bowls are in front of it or behind. It really was a joint effort – they wouldn't let you play unless you had a director," says Wal.
Wal's tunnel vision allowed him to see the jack, "but it looked like a haze around the moon, it wasn't clear".
After the World Championship win in 2007, Wal was also confirmed by Guinness World Records as the world's oldest singles player at 79 years 169 days. The truth is it was hard work playing two games a day for six days, but another community commitment kept him fit.
"I was quite fit because I looked after just on 60 guide dogs that I would get for about a month or two, and I have a circuit I used to walk them, about four kilometres every day," says Wal.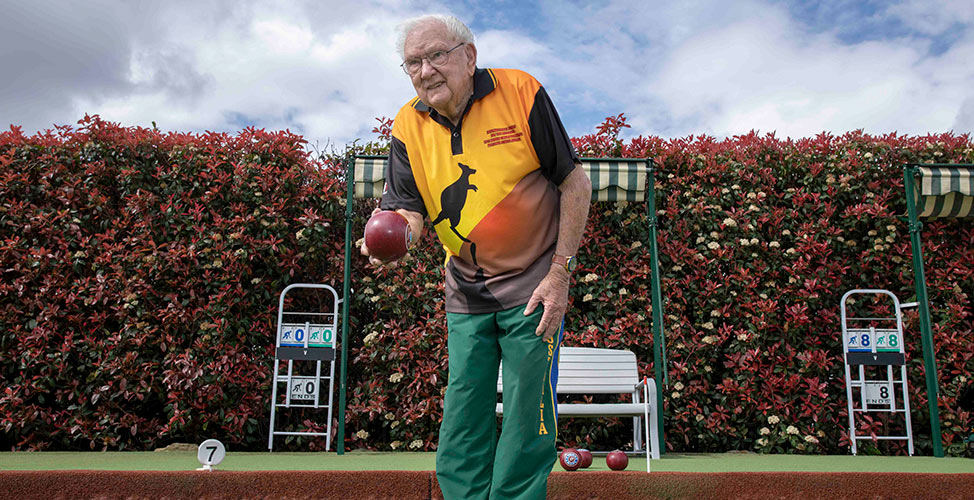 Singles, pairs, triples medals … more recognition followed, including Wal's induction into the Bankstown Sporting Hall of Fame, but especially his OAM in 2014 for community and sporting achievements. Wal still bowls every Wednesday.
Wal's wife Audrey died from cancer in 2008 and he remained in the family home they had shared in Padstow since 1966. He chose to receive assistance through Home Care Services shortly after losing Audrey.
"Every fortnight, Sue from Australian Unity Home Care Services comes and does my cleaning, which is great. I do my own washing and cooking," he says. Wal is keen to maintain his independence but also realises that, ultimately, he might need to move to a higher level of care.
"I had an assessor come out here and, if I wanted to, I could get assistance for shopping – and also if mowing my lawns was too much, they might assist with that," says Wal.
"I told the assessor that I prefer to do these things myself. I still do my shopping and I'll do it as long as I can. I'm only an eight-minute walk from here to the shops.
"A while ago, my doctor asked me was I doing much walking. I said, 'not really doc, my dog's gone now'." The doctor promised to do something about it and organised a companion dog.
Three months ago, Wal was given a 20-month-old "beautiful big black Labrador" called O'Reilly. "He was trained at Sydney's Guide Dogs Centre," he says, "although very obedient, he was a bit too strong to be a guide dog, so they gave him to me – a pet-as-therapy dog.
"My doctor reckons I am the youngest 90-year-old he's got."