"It's like having a videotape in your head. I can see it happening and from that picture I can write the story." – Joan Dalgleish.
Joan Dalgleish can still remember the exhilaration she felt when she first trod the boards as an enthusiastic nine-year-old.
"I was at a school in Punchbowl [in Sydney's south-west] and I was given the role of a kookaburra in a play," Joan says.
"I thought, 'This is really great!'. People clapped and they really liked it, and so I guess that is where the acting began for me.
"I have always loved reading and writing, as well as being other characters," she says.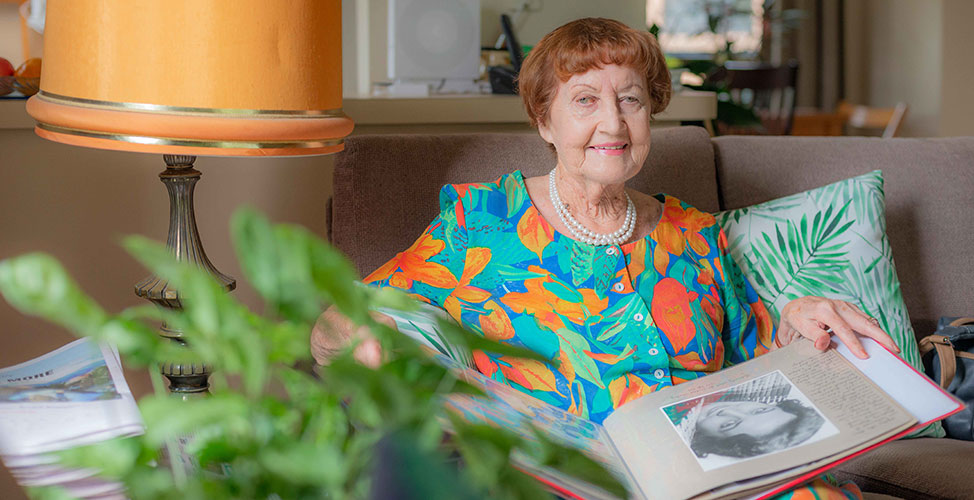 Today, Joan, aged 81, lives in her own home in Ballina in New South Wales and recalls how that fateful first acting role and a lifelong love of literature had such an impact on her life.
Her career in the arts has included many roles in amateur theatre groups and professional performances. Joan is also the author of 11 children's books and a collection of short stories and has written plays for children and adults.
When she was growing up, the world of imagination was a salve for Joan. Her parents owned several businesses and moved often. Joan coped with the upheaval by turning to her rich, inner world.
"At a new school, I would always go into the corner of the playground and imagine things. At least until I got a friend," she says.
When Joan left school she attended Sydney's prestigious Rathbone Academy of Dramatic Art and upon graduation took up independent theatre and voiceover radio work.
Then love turned up on her doorstep and, as is often the way, her life was never the same again.
"I was cast in a play with a man named Alan Dalgleish," Joan says. "We got married after six weeks and my parents said, 'What?!'.
"We were playing lovers in the play. It was A View from the Bridge by Arthur Miller, and so I guess the play spilled over into real life."
The couple had two children, Ian and Helen. Once they were at school, Joan's love of reading and writing returned.
"I took in a homeless cat, and it was such an amazing cat that I wrote my first book about it called Cats Don't Bark," she says.
A mixture of picture and early primary school books followed. Albert's Birthday, The Latchkey Dog, Dog on a Diet, The Watchduck, The Snail and the Cherry Tree were among them.
"It's like having a videotape in your head," Joan says of the writing process. "I can see it happening and from that picture I can write the story."
Sometimes her love of theatre and writing would intersect. Joan wrote pantomimes for amateur theatre group the Pymble Players and starred in many of its shows.
"I was in about 25 plays across 18 years," she says. A passionate advocate for childhood literacy, she performed a one-woman show, Imagination Lift-off, in schools across New South Wales, Western Australia and Victoria to encourage a love of reading.
Joan's husband Alan suffered from arthritis, which worsened during the 1990s. So the couple moved to the Central Coast in New South Wales, where Joan, you guessed it, joined the Woy Woy Theatre Group.
Three years ago, Alan was diagnosed with pancreatic cancer and, sadly, died six months later.
"I thought to myself, 'right, if I don't move now I never will' as I was 78 by that stage," Joan says.
Her daughter, Helen, lives in Casino, in the Northern Rivers area of New South Wales, so Joan has since settled in nearby Ballina. While son, Ian, is in Sydney with one child, Helen has four children and a grandchild of her own, and Joan sees them all regularly.
"Even though I have family here, I knew I wouldn't know anybody else, so I joined every group I could think of," Joan says.
She belongs to a movie club, attends the gym, studies ancient history at the University of the Third Age and enjoys spending time in her garden.
She also receives weekly household and social support from Australian Unity, after transferring from the Commonwealth Home Support Programme (CHSP) to a home care package just over a year ago.
"I had always been with Australian Unity and I was very happy with them, but under the CHSP I was only receiving one and a half hours of fortnightly cleaning," says Joan, who had a knee operation in 2015 and a hip replacement in 2016.
"Now, under the home care package, I receive one and a half hours of cleaning every week, plus one and a half hours of social support, which is great because it allows me to walk along the beach again."
Joan says the social support has helped her to stay in her own home, which she considers vital.
"I have my freedom here, in a beautiful unit that looks over the creek and the trees," she says.
"I can have someone take me to do the shopping and stop for coffee and a chat, I receive help with the gardening, and they can take me to collect gardening supplies. "I think it's so important to keep your independence."
Joan shows no sign of slowing down, either. On moving to Ballina, and joining the local theatre group, she played the role of Madame Arcati in its 2016 performance of Blithe Spirit and received the Ballina Players' outstanding new talent award. She was 78.
"It was quite a surprise and I have an Oscar-style statue to display," she says with a laugh.
She might even resume writing books.
"There's some funny things that happen as you get older and, who knows, I may now write for adults."
Words: Johanna Leggatt