"I fell in love with the place straight away. It's absolutely beautiful. It's homey and so friendly-looking." – Anna Singer.
Moving into aged care is a decision filled with emotions and considerations. Here we speak to Anna Singer, a resident of Australian Unity's Rathdowne Place Aged Care, and Gregor Poole, Rathdowne's Community Development Manager, to understand how finding the right place can support your happiness and wellbeing.
When Anna Singer's husband of 55 years passed away, her whole world changed. Vladimir – a fellow World War II survivor, who she met in St Kilda after she migrated from Holland as a teenager – was the only family Anna had left. But as Anna contended with her loneliness, some people close to her took advantage of her vulnerable state.
"I thought they were my friends. They were using me for my money. They weren't very nice. They wanted my identity and everything," Anna, 84, says. "I was very upset."
She found a temporary safe haven at the local War Memorial Hospital near her home in Sydney while she had the locks of her apartment changed. But it soon became clear that Anna needed to find a new, permanent home that would provide her with full-time care.
The next few months saw Anna moving from one aged care residence to another, as she tried to find a place she could call home.
"I didn't like the atmosphere [of the first aged care home], so I went to another one and I didn't like it there either. It was like a jail, one door after the other door. I wasn't very happy," she says.
"We were just left in the room with the TV on and people sleeping. It was horrible."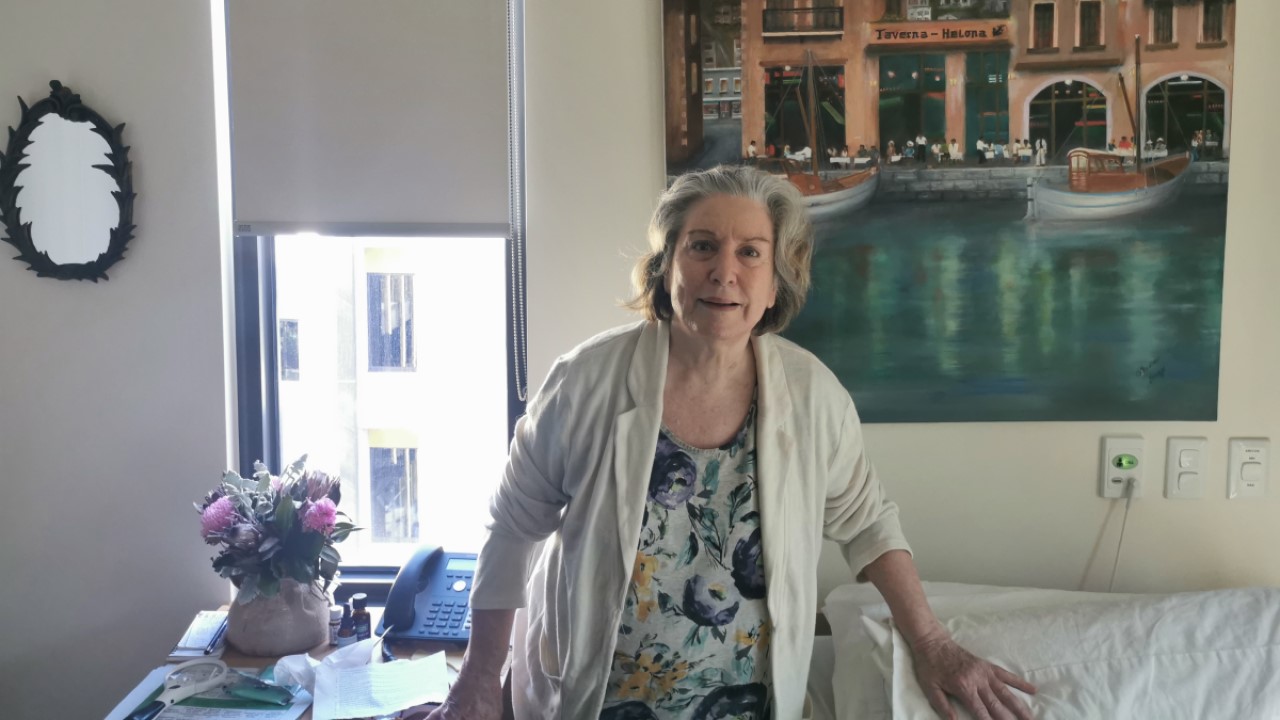 Finding the right place
Luckily for Anna, a good friend in Melbourne suggested she move back to the city she first migrated to as a teen. Her friend promised to find a nice place for Anna. So, in February 2020, just before COVID-19 turned the world upside down, Anna flew from Sydney to Melbourne on one of the last flights before lockdown, and walked into Australian Unity's Rathdowne Place Aged Care in Carlton for the first time.
"I fell in love with the place straight away," Anna says of the five-story modern complex located near Melbourne's CBD, with its balconies on each floor, cafe, gym, hair salon, rooftop terrace, open-plan kitchens, movie theatre and indoor hydrotherapy pool. "It's absolutely beautiful. It's homey and so friendly-looking."
Anna now spends her days reading, walking, exercising, watching movies on the big screen, and playfully laughing off marriage proposals from fellow residents. "I say, 'No thanks, I'm too old'," Anna laughs.
Her private room is decorated with photos of Vladimir and two of his paintings. "He had a talent. He didn't even know himself that he could paint and then he was about 60 when he started!" She also likes to read, and with the help of the staff, is able to source books online that she can't find at physical stores.
"The staff are absolutely wonderful. Any time we want a drink or something we can ring the bell and they come and they give it to us. They keep us busy and entertained. They do as much as they can do. They all deserve a medal," she says sincerely.
"Now, I'm very happy."
A place with a difference
Gregor Poole, Community Development Manager at Rathdowne Place, says making sure all 161 residents feel welcome is what makes Rathdowne special.
"It's the way we think about our residents," explains Gregor. "I'm a big advocate for making people feel like they're being heard in our community and (ensuring they're able to) participate actively as well."
A sense of community
"Pretty much all of our activities are generally what residents have asked for. That's probably one of our mantras: we don't do anything unless our residents really want to do it," says Gregor.
Regular activities include bocce – a favourite among the large Italian community at Rathdowne – happy hour karaoke (which turned into a "quarantini cocktail" during lockdown) and Bollywood dance lessons via Skype. To help residents keep in touch with loved ones, staff facilitate video calls with family and produce a weekly newsletter with stories and photos. Educational events are important too, such as Dementia Action Week, which helps residents to have a better understanding of others who suffer from the condition. Gregor's ultimate goal is that Rathdowne will one day be "known as a dementia-friendly community".
Birthdays are also an important part of life at Rathdowne. Gregor says, "We make a big deal of birthdays. There's always balloons going up. We tie them to people's chairs at lunchtime and bring them out a cake, and everybody sings happy birthday."
Anna recently celebrated her first birthday at Rathdowne. Her celebrations began at 9am with staff coming into her room to sing her happy birthday and give her balloons, chocolates and flowers. It continued on after lunch with everyone dancing and singing.
"It was a little bit of an impromptu party," says Gregor. "Anna's one of our disco divas. She loves to dance."
"I had a beautiful birthday. In fact, I had the best birthday I've had for a long time. I mean, my husband would usually take me out, but he didn't make it that much fun," laughs Anna.
After going through so much distress before moving interstate, Anna is grateful to have found a home where she feels happy and safe.
"I'm very fortunate to be here [in Rathdowne Place], because if I didn't take the last plane to Melbourne, I would've been stuck in Sydney just by myself," she says.
"I'm really, really happy here."
Want to know more?
From understanding whether you're ready to move into aged care, to finding a home that really cares, we've put together a collection of articles for you to discover more about residential aged care.
Disclaimer: Information provided in this article is of a general nature. Australian Unity accepts no responsibility for the accuracy of any of the opinions, advice, representations or information contained in this publication. Readers should rely on their own advice and enquiries in making decisions affecting their own health, wellbeing or interest.