Australian Unity Aboriginal Home Care customer Aunty Carol Wilson, 74, is an Aboriginal woman who lives in a remote community 80 kilometres from Grafton. Severe rheumatoid arthritis has slowed her down, but when care worker Lisa Shields visits, they have plenty to talk about .
AUNTY CAROL: "Lisa has been coming to me once a week on a Tuesday for about 18 months. She mops, vacuums, cleans and hangs up my washing.
I stopped her making my bed because it was too tidy and too tight like a hospital bed. I've got arthritis in my shoulders, knees and elbows.
I used to drive a 12-seater community bus three times a week until August last year, then the arthritis got too bad and I had to give it away. I did that for about four years. Before that I was an AEA (Aboriginal Educational Assistant) at Baryulgil.
When I first met Lisa, I thought: 'She's just another cleaner'.
Now I'm very happy with her. And we both love the Sea Eagles. She makes me a cuppa. We yarn a lot ... if the vacuum's not blaring. All the latest gossip and how we used to live in Baryulgil. No power, no running water, things like that.
She's also got me a special recliner under my care plan. It's got a button that lifts me up and stands me up. I got it a couple of months ago and now I'm not in so much pain. I can walk better.
I used to do a lot of baking – chocolate caramel slices and jam drops, my grandchildren's favourites. It's all coming back now. I'm baking because I'm not putting any strain on my legs."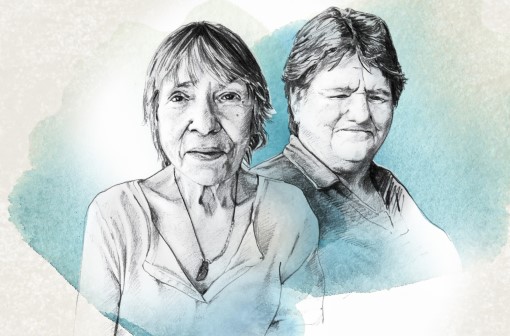 LISA: "(Aunty) Carol is lovely. I've known her for many years but worked with her for the last year and a half. She's very straightforward and doesn't beat around the bush. She's on a Level 2 package. I clean the bathroom and vacuum and do whatever she'll let me do. I've made lunch a couple of times, but she's a very proud woman. We love to chat about anything and everything. I love hearing about the old days; I'm really old-school like that. And I discovered that we both love the Manly Sea Eagles in the NRL.
She was very active, drove the bus and then went downhill overnight and all of a sudden she needed a walker.
We're an hour from each other. I live in Grafton, but I went to school with a lot of people in the Aboriginal community. I know a lot of the people she talks about.
She's got back into baking, which is great because she's no longer in so much pain. The recliner has helped. An occupational therapist from Remedy Healthcare (Australian Unity's health partner) is working to improve her mobility and helped to arrange it for her. She's getting a new bed soon, too.
I love working with (Aunty) Carol. I try and be positive and show all my customers respect.
We've been through a lot up here. The fires (in December/January) came up to her back door."