"There has to be a lot of respect for our customers and their culture, and mindfulness of what their people have gone through." – Louise Heydon, quality assessor for Independent and Assisted Living, Australian Unity.
When you're raised according to a well-defined set of customs and beliefs, they often stay with you throughout adulthood – influencing the way you live, the relationships you have and your place within the community.
Such is the case for Gambirra Illume, a Yolngu woman of the Gumatj clan in northeast Arnhem Land in the Northern Territory, who works as an Indigenous mental health coach at Australian Unity.
"Yolngu people are taught about relationships and connections to country and other living beings at a very young age," Gambirra says. "Caring for country and caring for its people is a cultural obligation and has shaped who I am."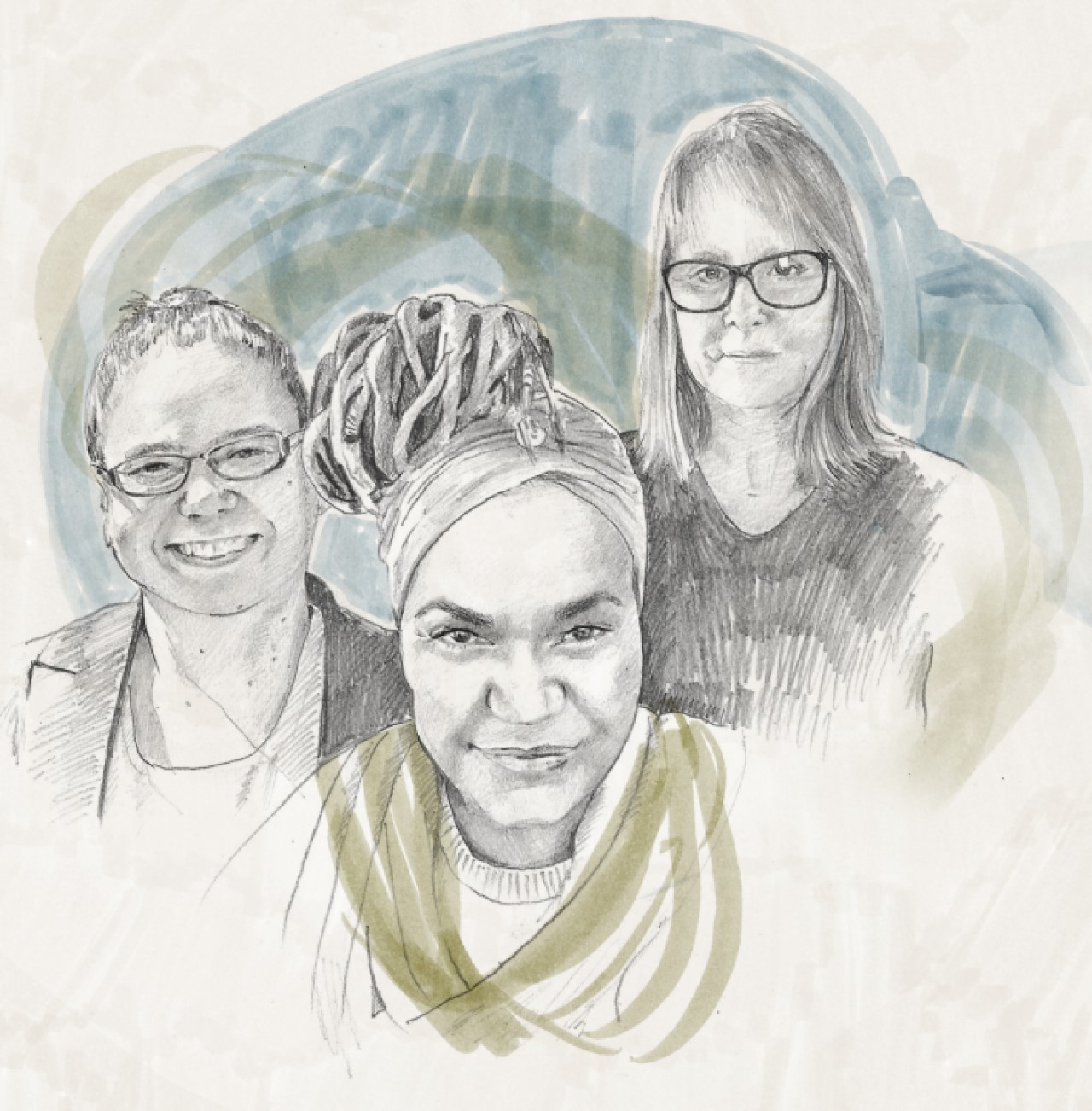 Aboriginal and Torres Strait Islander cultures have adapted dramatically to accommodate all that has been introduced into Australia since colonisation. Consequently, Gambirra says adaptation, understanding and being aware of complex needs is another significant component of her cultural obligations.
Now based on New South Wales' Central Coast, Gambirra is passionate about creating tailored care services for First Nations people, who she explains have a holistic view of health.
"Our mob connect to health and wellbeing spiritually, culturally, socially, physically and emotionally. Mental health issues can arise when there is an imbalance or problem in any of these areas."
She works with Healing Minds, a new program from Australian Unity's Indigenous Services. Healing Minds offers confidential phone-based coaching for mental and emotional wellbeing. It's designed for – and delivered by – Indigenous people.
"We listen and talk with our customers about their main worry; they learn more about how anxiety and depression can impact on their lives," Gambirra says.
"We assist in self-care, independence, discovery and empowerment towards their mental wellbeing needs. We can also assist in accessing local services and agencies that can be used for additional support."
Building trust
Healing Minds is one of many Indigenous programs that Australian Unity delivers. The organisation's Indigenous Services Team, which includes 300 Aboriginal staff members, also provides home and community services, such as cleaning and gardening, transportation, nursing and wellbeing support.
Louise Heydon has been part of the Indigenous Services Team since 2016, working out of the Coonabarabran branch in New South Wales as a quality assessor for Independent and Assisted Living. Originally from Sydney, Louise is a Dunghutti woman, whose traditional lands are in the state's New England region.
When she was growing up, Louise's Aboriginal cultural heritage wasn't acknowledged; at the time, it was considered shameful and something to be suppressed.
Reconnecting with her mob as an adult and working with Indigenous customers have highlighted the vulnerabilities of her people.
"It allows me to see the disparities between non-Indigenous and Indigenous people in our communities," she says. "It's made me really appreciate and sit and listen and learn and understand why there are differences and what those differences are."
Louise has found some Indigenous customers are reluctant to seek support, either because they're accustomed to family and community assistance, or because they're wary of mainstream organisations due to past negative experiences.
"Sometimes it can take a couple of visits to get to know a person and form a relationship with them," Louise says. "There has to be a lot of respect for our customers and their culture, and mindfulness of what their people have gone through."
Positive interactions with culturally sensitive care can have a flow-on effect throughout the community. Louise highlights the case of several local Elders whose wellbeing has significantly improved since they received support services.
"That then filters down to the younger ones in the family, who can see there's been a change," she adds.
Community connections
Like Gambirra and Louise, Sydney-based Indigenous Services Coordinator Kelly Bashford is dedicated to helping Indigenous communities.
A Yuin woman of the south coast of New South Wales, where her people are the traditional owners of land known as Wallaga Lake, Kelly's approach to care starts with asking customers about their mob's background and where they're from.
Kelly draws inspiration from her grandmother, who was instrumental in fighting for the rights of Aboriginal people to access support services.

One of the most positive aspects of her work has been her involvement in a centre-based day care program, which brings community Elders together for arts and crafts classes, bingo or a shared meal.
"Sharing is very important in our culture," she says. "We share food and sit around and talk about things that are happening in our lives."
Each Indigenous Services branch offers different opportunities for community members to connect in this way – everything from fishing trips to yarn ups.
During the COVID-19 pandemic, some branches have initiated online events, such as social activities and wellbeing checks, while others have launched food delivery services to temporarily replace communal meals.
"Whatever the needs are in the community, we work out how we can meet them," Kelly says.
Words: Beth Wallace Illustration: Sara Hingle