"It's always better to enter care before it becomes an urgent need … That way, you can make the most of the social life and the activities on offer." – Suzanne Russell.
Mary and Jack* were determined to live in their own home. They were reluctant even to spend two weeks in respite care to give their regular carers a break. Then, when they saw for themselves what residential aged care is really like, they completely changed their minds and decided to stay.
"Mary and Jack enjoyed the social side immensely," says Suzanne Russell, Admissions Manager at Australian Unity. "And the family couldn't believe how much they both changed when the anxiety of managing everything at home was lifted."
Residential aged care provides peace of mind with safety and support – and it can also open the door to a new and enjoyable phase of life. While there is a lot to a consider, there are some key steps and things to think about to help make the move to aged care a smooth transition.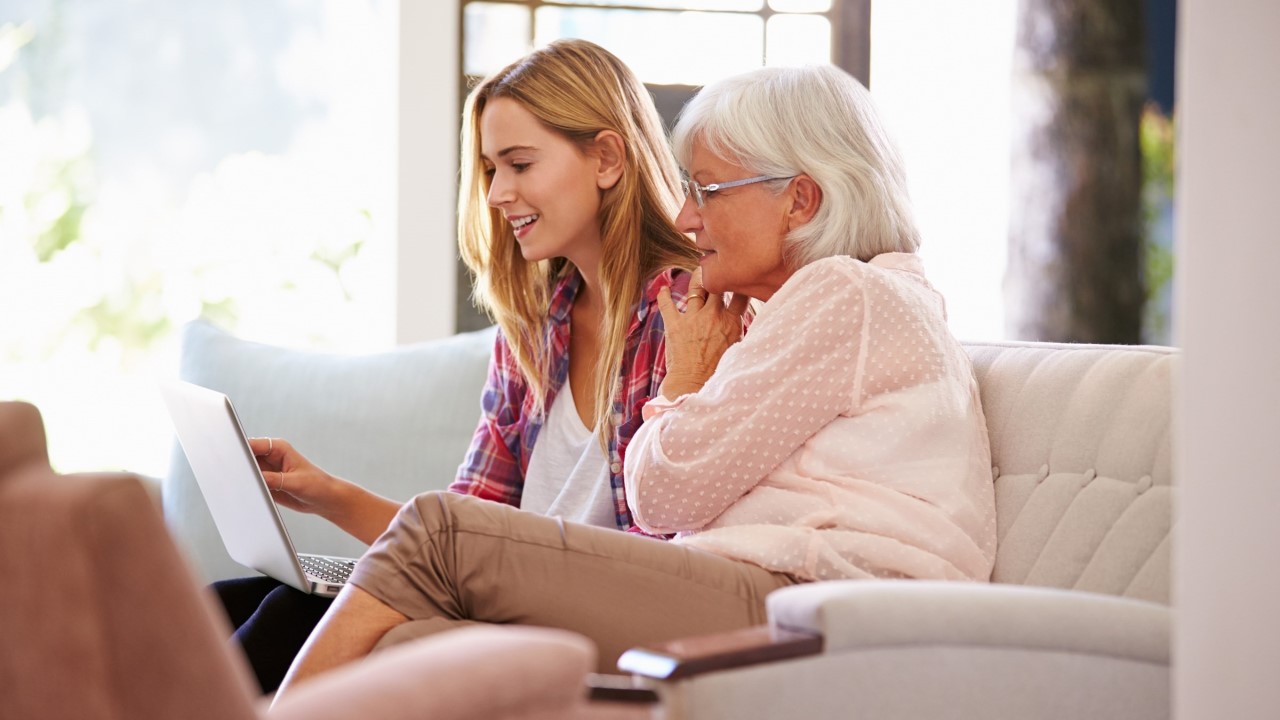 1. Determine the right level of care
If you feel you'd benefit from having more support in your daily life you can request an aged care assessment.
"A clinical specialist or nurse will visit you at home or, if we're socially distancing, they may arrange a virtual appointment," says Suzanne. "They will chat to you about what you find difficult then assess the level of support you need. This could be home care, residential respite care or permanent residential care."
You can contact My Aged Care directly to arrange the assessment or ask your GP to do it for you.
"My Aged Care is the Australian Government's central hub for support as you age," says Suzanne. "Once you've been assessed, you'll be able to access government subsidies for the help you need when you need it."
2. Find the right place for you
If possible, you should allow between three to six months to choose your accommodation.
"This gives you time to find somewhere you feel comfortable in a preferred location," says Suzanne. "For example, you might want to be near the ocean, in a city or just somewhere close enough for your family and friends to visit regularly. If you wait until there's an emergency, such as an accident or serious illness, your choice will be more limited."
Most aged care homes have a waiting list, and you shouldn't be asked to pay a deposit.
"Waiting times will vary from a few days to a few months, depending on the home and the situation," Suzanne says.
3. Consider costs and payment
If you've been assessed and approved for residential care, the basic daily fee starts at about $52.25 per day. This fee helps pay for the basic cost of living expenses. With a wide range of options available, your total costs will vary depending on your assets, preferences and choices.
"Some premium homes will have an additional charge, which varies from place to place," says Suzanne. "In general, the size of your room and its features will have the biggest influence on cost."
Two other sets of fees – your accommodation costs and means-tested care fees - are based on your assets and income.
"If your assets are valued at more than about $171,500 you may need to pay for your accommodation in full," Suzanne explains. "You could also be asked to contribute to the cost of your 24-hour care. If they apply, the amounts will be determined by Centrelink. The My Aged Care website has a tool that can give you an estimate, while you wait for a means assessment."
How do I pay?
One option for payment is a lump sum, like a bond, known as a Refundable Accommodation Deposit (RAD).
"You can think of this as an interest-free loan to the aged care home," says Suzanne. "They earn interest on the RAD while you stay with them and when you leave the full amount will be returned to you or your estate, unless you have elected to have other fees or costs taken out of the RAD during your stay."
If you either can't pay the lump sum or would prefer not to, you can opt for a Daily Accommodation Payment (DAP).
"This is a bit like paying rent for the room rather than buying it," Suzanne explains.
She adds that there's no need to worry if you have minimal assets as you will qualify for extra government support. Your accommodation costs could be low, or even negligible.
"The different options can be quite complex so it's good to know there are really great financial advisers who specialise in aged care," says Suzanne. "They can help you to structure your finances in the most effective way."
Do I need to sell my home?
Many people do sell their homes to fund residential aged care but it's important to understand the alternatives as well as the pros and cons.
"Again, a specialist financial adviser can help," says Suzanne. "If you do decide to sell, there's no mad rush – you'll usually have six months to raise the lump sum. But, remember, it's always your choice."
4. Decide what you'll take with you
Aged care accommodation usually consists of a bedroom with an en suite. Some include a second living area, an outdoor courtyard or a small kitchenette.
"It's important to take a look at your room and talk to the staff about what to bring," says Suzanne. "They need to make sure your environment is safe and that walkways aren't cluttered. You can use pictures and photographs to personalise your space and, if it fits well, you might want to bring your favourite chair. A TV and phone are often provided."
Making an easy transition
Planning well in advance is key – not only does this give you a sense of security about the future, it helps to smooth your transition into your new home.
"It's always better to enter care before it becomes an urgent need," says Suzanne. "That way, you can make the most of the social life and the activities on offer."
She adds that most people working in aged care do it because they genuinely care.
"Our team members care about the residents and their families, and form really strong relationships with them," Suzanne says. "Our families tell us they feel supported and their loved ones cared for, both physically and mentally. The gratitude, smiles and friendships speak for themselves."
Not everyone needs to move into residential aged care, but if you think you might choose to do so, then preparation is important. Understanding what's involved and getting the facts up-front can help make the transition a lot smoother when the time arrives.
*Not their real names
Disclaimer: Information provided in this article is of a general nature. Australian Unity accepts no responsibility for the accuracy of any of the opinions, advice, representations or information contained in this publication. Readers should rely on their own advice and enquiries in making decisions affecting their own health, wellbeing or interest.