9th December 2021
Australian Unity Tour de Brisbane 2022 course sets riders into a spin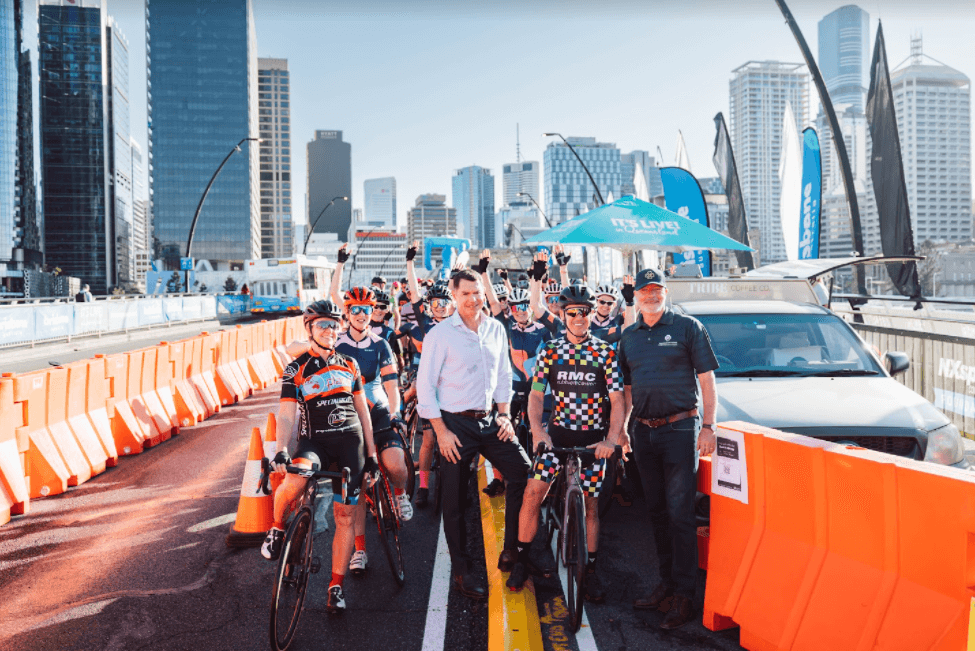 Cyclist across Australia are buzzing today following the release of the course of the Australian Unity Tour de Brisbane bike ride scheduled for Sunday 10 April 2022.
This year Australian Unity is proud to be the naming sponsor for the event following a partnership with The Common Good.
Herston Quarter Development Director Richard McLachlan said Australian Unity was delighted to announce their partnership with The Common Good and as part of that agreement become the naming sponsor for Brisbane's premier cycling event – the Australian Unity Tour de Brisbane.
"Australian Unity is a company built on a brand promise of real wellbeing and there is great synergy in our partnership with The Common Good, which supports medical research into heart, lungs, dementia and metal health," Mr McLachlan said.
"Established in 1840, Australian Unity was Australia's first member-owned wellbeing company, delivering health, wealth and car services.
"Australian Unity is the master developer for Herston Quarter, a $1.1 billion redevelopment that will transform the five-hectare site within The Herston Health Precinct into a revitalized, master planned mixed-use community," Mr McLachlan said.
CEO of The Common Good, Michael Hornby is encouraging all riders to step up to ride for a cause this year and give previous time to medical researchers, and in turn more time for those we love.
"We are thankful for every rider at Australian Unity Tour de Brisbane who steps up to raise much-needed funds for The Common Good. Our goal this year is to raise $250,000 and we'll need every rider to pitch in to get there," Mr Hornby said.
Each rider who joins the Australian Unity Tour de Brisbane is automatically set up with a fundraising page for The Common Good on their rider profile, the only step it to begin the fundraising!
After a hugely successful event in 2021, the Australian Unity Tour de Brisbane will showcase Brisbane city once again on the world sporting stage.
Supported by world-renowned cyclist Robbie McEwen AM as Official Event Ambassador, the course starts and finishes from the Brisbane Showgrounds and encapsulates the most iconic landmarks of Brisbane including the Story Bridge, Inner CBD, Centenary Motorway, Inner City Bypass, and Mount Coo-tha.
The ride sets itself apart by being one of the only UCI Gran Fondo World Series events worldwide held on filly closed inner city roads and offers a range of distances including the 110km, 80km, 50km, 14km and a free community ride.
Australian Unity Tour de Brisbane runs alongside the Brisbane Cycling Festival presented by King St, Australia's biggest multi-disciplinary cycling event scheduled for 24 March – 14 April 2022.
Tourism and Sport Minister The Honorable Stirling Hinchliffe MP said the Australian Unity Tour de Brisbane and Brisbane Cycling Festival would be a significant event for professional and amateur riders alike.
"The Brisbane Cycling Festival is a major feature of the State's It's Live! In Queensland events calendar," the Minister said.
"Over the next decade, major sporting events will be an important part of Southeast Queensland's preparation for Brisbane's transformational 2032 Olympic and Paralympic Games."
Transport and Main Roads Minister Mark Bailey said, "The highlight of The Brisbane Cycling Festival, the Australian Unity Tour de Brisbane bring competitors, support crew and spectators to our city who make a significant contribution to our visitor economy."
To view the new course or to secure your entry visit www.tourdebrisbane.org.