31ST JANUARY 2022
100-year-old heritage icons restoration at Herston Quarter complete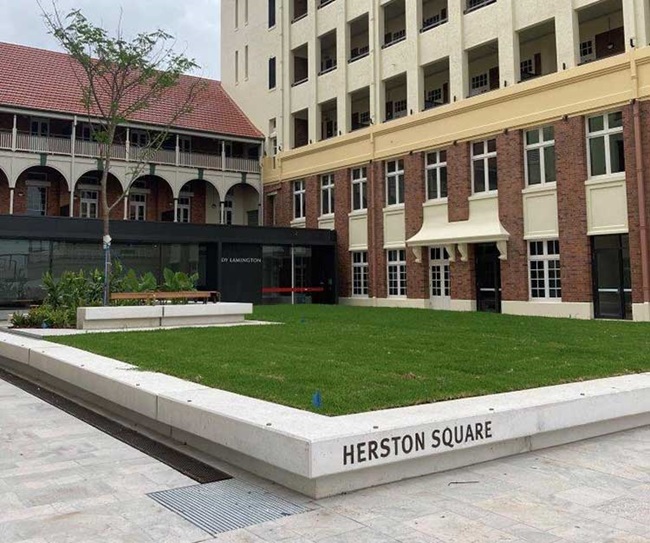 Sitting proud, high on the hill at Herston, and once home for our city's nurses, Australian Unity has meticulously restored the former Lady Lamington nurses' home and iconic towers and Edith Cavell heritage buildings ready for the next wave of students to call the place home.
Australian Unity Herston Quarter Development Director Richard McLachlan said the refurbishment works were an integral part of the $1.1 billion Herston Quarter redevelopment.
"These are some of the most treasured heritage buildings in Brisbane and once housed our city's nurses for almost 100 years before closing in 1993," he said.
"We are excited to have returned the former Lady Lamington nurses home and towers to their original purpose as student accommodation and to have respectfully repurposed the Edith Cavell building to commercial office space, which in a sign of commitment to Herston Quarter includes the Australian Unity Queensland head office."
Mr McLachlan said to restore the buildings, there were lots of challenges as the 100-year old heritage buildings needed upgrading to meet contemporary building code requirements.
"More than 550,000 hours of local labour went into the restoration process that saw the installation of 850 linear metres of timber balustrade, 12,000 linear metres of verandah decking boards, the painting of 539 original doors, 230 pairs of new French doors, 318 original window frames and the replacement of hundreds of panes of new glass.
Mr McLachlan said, "The Heritage Precinct will be the beating heart of the Herston Quarter redevelopment with a place activation strategy set to roll-out this year."
More than 10,000 plants have gone into the new public realm surrounding the heritage precinct making creating an inviting collection of species for people to enjoy.
"We have invested significantly in the public realm in and around the Heritage Precinct to create an inviting place for our community of workers, visitors and residents to enjoy," Mr McLachlan said.
The first students will move in from February 2022 and in the coming months new food retailers will be introduced to the precinct for the enjoyment of the students, and in excess of 10,000 people who live, work or visit the Herston Health Precinct each day.
Deputy Premier Steven Miles MP said the heritage restoration at Herston Quarter was one of the most significant in Queensland.
"This is yet another milestone to transform the $1.1 billion Herston Quarter into a mixed-use health, residential, commercial and retail precinct," Mr Miles said.
"About 70 apprentices were able to complete their training on-site and get real life experience working on a heritage redevelopment and learn a bit about Brisbane's history.
"We are committed to fast-tracking vital infrastructure projects to stimulate the economy, sustain the construction industry, and provide for the future growth of Queensland.
"This is a great example of Economic Development Queensland working with the private sector to enhance Queensland's economic recovery."
Member for McConnel The Hon Grace Grace said from day one she had been a strong advocate for the Herston Quarter redevelopment.
"The refurbished student accommodation is a great outcome that will support university placements and breathe new life into the heritage buildings," she said.
"Herston Quarter is a global benchmark in public and private medical facilities and is a win for our community."
The heritage restoration works which started in February 2020 were completed in late January 2022 by Hutchinson Builders who originally built the north tower in 1936.
Australian Unity is proudly delivering Herston Quarter, a vibrant, diverse and connected community comprising world-class health infrastructure, student, commercial and residential accommodation, childcare and supporting complementary uses.
Now in the fifth year of the delivery program, Herston Quarter is emerging as a high-quality, amenity rich precinct, with a focus on public spaces, lush landscaping and beautiful buildings.
Herston Quarter is being developed by Australian Unity as the Master Developer in partnership with Metro North Health.